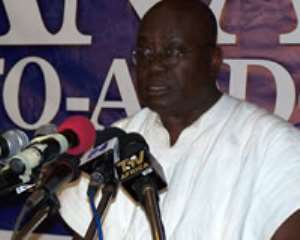 Nana Addo Dankwa Akufo-Addo, one of the 17 flag bearer aspirants of the New Patriotic Party (NPP) says there is evidence that President Kufuor backs one of the contestants.
But he stopped short of mentioning the aspirant's name.
Speaking to Joy News' Akwasi Sarpong on Tuesday December 18, 2007, he said, he is not worried though, about the fact that the President backs one of the contestants who want to succeed him, but he is worried about the manner in which it is being done.
He said, the Executive wing, including the Ministers of State, Municipal Chief Executives and District Chief Executives while they are all expected to show some neutrality, they have voting rights and therefore, could not be said to be neutral, but the manner in which they exhibit their backing for a candidate of their choice is his concern.
He says the executive is working in favour of the president's preferred candidate.
He said someone has even gone on air on radio to say that the contest is between the party's candidate and the president's candidate.
Nana Akufo-Addo commenting on the use of money to induce delegates to Saturday December 22, 2007 congress said, using money to influence candidates is part of politics. He says it is something no one can do anything about, but he believes that people do not necessarily make their decisions based on money.
He adds that when it comes to the use of money, he does not feel disadvantaged.
He said, delegates would always look beyond money, according to him money is not a determining factor, and the candidate must do something beyond giving money to delegates, but be able to show that they have something more to offer.
Nana Akufo-Addo said that a cnadidate must have a message that resonates with the delegates to win their votes.
He said the delegates are looking for a candidate who would be able to beat the candidates of the other parties and win the 2008 elections for the NPP.