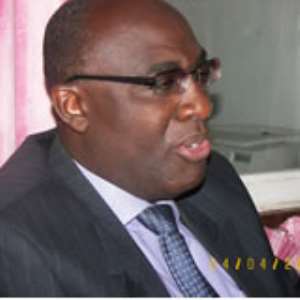 Papa Owusu-Ankomah, former Minister of Education, Science and Sports has taken his presidential aspiration to the doorstep of the Almighty as he seeks God's face in his bid to lead the New Patriotic Party (NPP) in Saturday's congress.
Papa has declared a five-day fasting and prayer session as the NPP presidential race enters home stretch as aspirants devise various strategies to see them through the highly competitive race to elect a successor to President John Agyekum Kufuor.
Papa Owusu-Ankomah, through his Outreach and Party Relations Officer, has asked all staff of his campaign office to embark on half-day (6am-12 noon) fasting and prayer sessions, starting Monday.
According to the prayer warriors, they are hopeful that the spiritual exercise would turn the tide in favour of their candidate, Papa Owusu-Ankomah, MP for Sekondi.
Supporters and staff have been directed to take inspiration from Psalm 5:12 and Proverbs 12:2 during the spiritual exercise.
The Muslims in the campaign office are not left out in the ceaseless prayer session as they have been asked to recite Ya Allah and Ya Raheem, meaning "Oh God" and "The Merciful" respectively.
Speaking to Daily Guide, Chief Strategist of the Papa Owusu-Ankomah for President Campaign Team, Kofi Blankson Ocansey said it is only God who can fight for them, pointing out that the declaration was an "expression of faith and acknowledgement of the bounty of the Lord".
"Papa believes in God, who anoints Kings. We believe he is a frontrunner who will give hope to the Ghanaian electorate, who are looking for a new face with electoral appeal and vision to consolidate the gains made in the party strongholds."
The campaign team ass expected to hold a press conference on Tuesday on the chances of the aspirant in the Saturday delegates' congress at the Great Hall of the University of Ghana, Legon.

"The Papa Owusu-Ankomah for President Campaign Team is organising a high-powered media briefing to showcase its strategy for winning the December 22, 2007 NPP flagbearership contest," a statement signed by Kingful Kobena Acquah said.
The former Education Minister is contesting the NPP slot with 16 other aspirants to lead the party in the 2008 presidential elections.
His handlers claim Papa is the man to beat in the race.
"He is a frontrunner," Mr. Ocansey insisted.