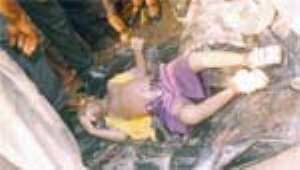 AIYINASI, A farming community in the Nzema East District of the Western Region was thrown into a state of shock last Friday when news about the mysterious death of a six-year-old boy broke.
Kofi Ndede, a pupil of Rainbow International School was found dead in a well a few metres away from the school.
Briefing DAILY GUIDE on the bizarre incident yesterday, Peter Ndekugri Anomgugri, Western Regional Mobile Force Commander and Acting District Police Commander of Nzema East said on Thursday, 10th December, 2007, Ndede was asked by his class teacher to go home and bring a toilet roll, which was routine in the school.
After a long time when Ndede did not return to school, some teachers asked his elder sister, Doris Arizi, also a pupil of the school, of the whereabouts of her younger brother.
After a fruitless search for Ndede, Doris went to inform her mother about the development.
A search party was therefore organized to look for the six-year-old. Members of the search party combed through the town, particularly around the location of the school, but they too could not find him.
The following day, the search party and some of the teachers of the school continued to look for Ndede and at about 3.00pm, some members of the search party raised an alarm to the effect that Ndede's body was in front of a house close to the school.
According to DSP Ndekugri, when they rushed to the said place, members of the party could not find the body.
A few minutes later, one Stephen Addai, who had walked towards a well which was a few metres away from the school, raised an alarm, and when the search team rushed there, they found Ndede's body floating on the water inside the well.
Most of the people DAILY GUIDE interviewed in the town could not believe their eyes because the search party had already looked inside that well. Some of them even fetched water from it and used all kinds of objects to stir the water but could not found the body.
The Police had so far arrested two suspects: Stephen Addai and Ackah Dusie.
According to the police source, Ackah Dusie, a relative of the deceased, told the police that he saw the boy on Thursday, December 10, playing with some of his friends at the Catholic School Park in the town and even had a conversation with him.
Meanwhile, the body of Ndede had been deposited at the Axim Government Hospital morgue pending autopsy.
From Mark Essien and Emmanuel Opoku, Aiyinasi