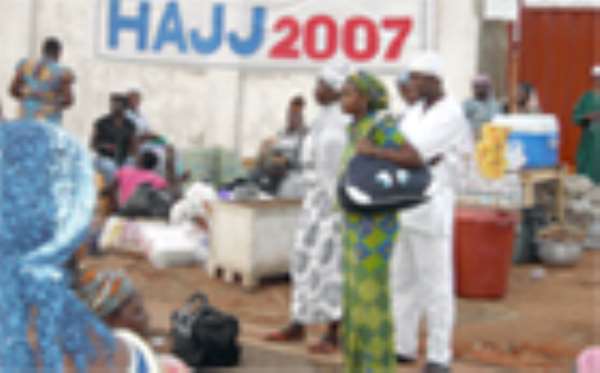 THE STRING of controversies that bedeviled this year's Hajj continued unabated yesterday when a row broke out between Immigration Officials and some Airport Security personnel (AV Security) over inspection of pilgrims' passports and boarding passes.
The incident, which nearly marred the smooth boarding process, occurred when the immigration officials insisted that the inspection of boarding passes and passports be left to them, a suggestion which did not go down well with them.
The brouhaha, which continued for some minutes, came to an end when some senior immigration officials were called in to intervene and the furious immigration officers, who were by then locked up outside the main gate, had to be called in to continue the process of inspecting boarding passes and passports.
DAILY GUIDE gathered that after realizing the process of issuing boarding passes had been infiltrated by some unscrupulous people with the allegation last Monday that some people were collecting almost ¢2million from the pilgrims before issuing them with boarding passes, the airline officials decided to change the initial ones, thereby making some pilgrims jittery.

Some Immigration Officials who spoke to DAILY GUIDE on conditions of anonymity said the move was to ensure sanity in the process, noting that they (Immigration) had been blamed in the previous incident and that it was important they restored their image.
They contended that the security personnel had no business inspecting boarding passes, which according to them were not part of their (security personnel's) official duty.
Meanwhile, the remaining stranded Ghanaian pilgrims heaved a sigh of relief as they were airlifted to Jeddah, Saudi Arabia to perform this year's Hajj, one of the pillars of Islam.
The pilgrims, numbering about 450, were airlifted by Boeing 747, belonging to KABO Airline, which was said to have been secured by ALAMA Airlines, official Saudi Arabian-registered brokerage company which had contractual agreements with the Interim Hajj Management Committee.
The Operations Manager of the Interim Hajj Committee, Alhaji Daada earlier told DAILY GUIDE that the pilgrims were expected to be back in Ghana in about a fortnight, and expressed delight at the arrival of the Boeing 747.
By Abubakar Salifu