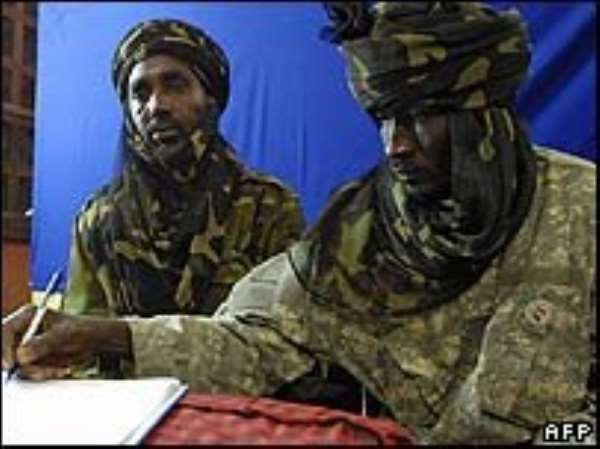 Rebels in Sudan's Darfur region say they have inflicted a major defeat on the Sudanese army in an attack on a convoy near the border with Chad. The rebels said they had defeated two battalions, capturing 29 soldiers, 32 vehicles and a number of heavy weapons.
Sudan's army confirmed a clash outside el-Geneina, the capital of West Darfur, but denied suffering heavy losses.
More than 200,000 people have died in the conflict between rebels and pro-government forces in Darfur. International mediation efforts have repeatedly failed to stop the violence. A 26,000-strong UN peacekeeping force is due to deploy in Darfur next year.
'Two battalions defeated'
Abdel Aziz el-Nur Ashr, a Justice and Equality Movement (Jem) commander, said his forces had captured a lieutenant-colonel and three other officers.
"We defeated two battalions and chased them to within 7km [4 miles] of el-Geneina," he told Reuters news agency.
In an unconfirmed claim, he added that the Jem had also attacked Sudan's Defra oil field for a second time, shutting down its pumping station.
This is the second time in a week that Jem rebels have said they have inflicted a heavy defeat on government troops, the BBC's Adam Mynott reports from Nairobi.
They said their forces had attacked an army garrison in Kordofan in central Sudan last Tuesday.
Again, the Sudanese government denied the claims. A rebel report that they had taken over a Chinese-run oil field was denied by the Chinese embassy in Khartoum, which did, however, confirm there had been fighting.
Within the next few weeks the first contingent of a UN-African Union hybrid force is due to take over peacekeeping operations in Darfur.
But it still lacks vital equipment it needs and there are continuing differences with the Sudanese government about various operational procedures, our correspondent notes.