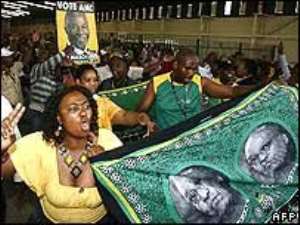 Supporters of Jacob Zuma in South Africa heckled his opponents at the start of a conference to elect a new African National Congress leader. They shouted the deputy ANC leader's name and sang his campaign anthem as he entered the hall with the current ANC head, President Thabo Mbeki.
Mr Zuma is tipped to win despite being dogged by corruption charges. The choice, due to be made in a vote beginning on Monday, could decide who becomes South Africa's next president. Mr Mbeki has to step down in 2009 - after serving two terms. His predecessor, Nelson Mandela, said he was saddened by the rifts within the organisation.
Historic contest
An ANC conference is always a colourful, noisy affair but this one is proving to be unusually rowdy, the BBC's Peter Biles reports. Delegates at the five-day congress in Polokwane, Limpopo, will see the ANC's first leadership contest in 58 years.
It had been expected the vote would be held on Sunday evening but, 11 gruelling hours later, the congress broke up to reconvene on Monday morning.
"Voting will start tomorrow in the morning and go throughout the day," ANC spokesman Thabo Masebe told reporters.
They will be voting after what has been a fiercely contested leadership campaign, our correspondent says.
Mr Mbeki and Mr Zuma were sitting near each other on a podium as Defence Minister Mosiuoa Lekota got up to open the conference.
Some of Mr Zuma's supporters started heckling and booing - as Mr Lekota's speech was drowned with delegates singing the anti-apartheid song, Bring me my Machine-gun, which has become Mr Zuma's anthem.
Mbeki appeal
In his address lasting nearly three hours, Mr Mbeki said the conference needed to establish the truth about whether the ANC had been involved in an internal struggle that threatened the very survival of the movement.
Thabo Mbeki said the matters affecting Mr Zuma had been a difficult and painful challenge and the ANC needed to deal with the situation without delay.
He said claims by the Zuma camp that he had centralised power were false - sparking boos and hissing from the floor.
Mr Mbeki has already served two terms and cannot lead the country again. But correspondents say if he were to remain ANC leader he would be well placed to decide who succeeds him as national leader.
Meanwhile, Mr Zuma, has conducted a vigorous campaign to wrestle the leadership crown.
He has also been warding off allegations of corruption and last year was acquitted of rape charges.
Nelson Mandela said he was sad "to see and hear of the nature of the differences currently in the organisation".
Tutu's call
On Friday, the former Archbishop of Cape Town, Desmond Tutu, urged the ANC to reject Mr Zuma.
Archbishop Tutu, one of South Africa's most powerful moral voices, said delegates should "not choose someone of whom most of us would be ashamed".
"We're very worried that this leader had relations with a woman who regarded him as a parent," he told South Africa's Mail & Guardian newspaper.
This was an apparent reference to the woman Mr Zuma was acquitted of raping. She was a family friend less than half his age with whom he had unprotected sex while being aware she was HIV-positive.
Mr Zuma responded by saying it was "the business of the leaders of the Church... [to] pray for people, not condemn them".
Once close allies, he and Mr Mbeki publicly fell out in 2005 when Mr Zuma was sacked as deputy president over corruption allegations.
The case against Mr Zuma was thrown out by a judge last year but he could still face charges in connection with a multi-million dollar arms deal.