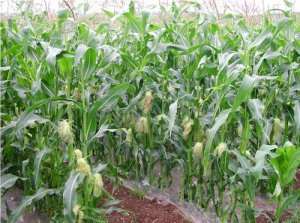 The new maize variety named, Golden Jubilee, will be released to farmers for planting this farming season. It was developed by a team of crop scientists from the Crop Research Institute of the Council for scientific and Industrial Research, at Fumesua near Kumasi.
According to the leader of the team, Manfred Ewool, the need to develop the new variety started 10 years ago, since the existing varieties lacked nutrients and could not satisfy the needs of the poultry industry. The new variety is meant to serve the growing demand of quality maize protein in the livestock industry.
Mr. Ewool said the Golden Jubilee variety contains tryptophane, protein and carotene, which are essential for normal growth and safe for human consumption. He said the government spends US$2m annually to import yellow maize similar to the Golden Jubilee variety into the country, adding that with the new variety on the market, government will no longer spend scarce foreign exchange to import the maize.
Mr. Ewool said about five acres of the Golden Jubilee have been planted and will be handed over to the certified seed growers for multiplication and dissemination to farmers. He said quality protein maize, which is mostly yellowish in colour, gives deeper yellow colour of the egg yolk and better quality of meat when fed to poultry.