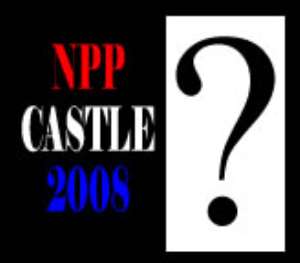 Wishful thinking, misplaced optimism or just common folly, but all the 17 NPP presidential aspirants enter this final week of campaigning for the nomination as presidential candidate convinced that they are going to win hands down. This mindset has therefore all but shut the doors to any pre-congress pooling of resources to reduce the numbers and improve chances.
This may be due to the fact that constituency executives and delegates have promised all the aspirants that they would vote for them and spurious "opinion polls" conducted even before delegate selection must also have given some of the aspirants' false hopes which they are still holding onto very fast!
Delegate selection has just been completed in almost all the 230 constituencies and for all the aspirants, this is the first chance they have to meet and convince the real McCoy! Before then, they were spending and talking blindly!
Even though all the 17 aspirants are expressing varying degrees of optimism, three names stand out: Vice President Alhaji Aliu Mahama, Nana Akufo-Addo and Alan Kyeremanten.
The Vice President, who many people say should have been the automatic successor by acclamation, has much visibility due to his incumbency. He is peaking at the right time with his message of empowerment impressing delegates and others alike. He is clearly surprising many people with his incisiveness after many years in the shadow of his boss, President Kufuor. The Vice President, according to reports has been mesmerizing audiences with extempore robust performances on his mission.
Nana Akufo-Addo is campaigning on the platform of "pedigree". His "Yenim wo firi tete", Akan for "We know you from days gone by", is being pushed to establish his credential as a "party man". He has a well-oiled campaign machinery, visible in the massive blitz he has orchestrated in all the media.
Then there is Alan Kyeremanten, now widely regarded as the man "preferred" by President Kufuor and therefore receiving direct and/or indirect support from the state machinery. Regional Ministers, Municipal and District Chief Executives have (not) helped him with their overt and often crude tactics of intimidation. He is not very popular with most, if not all the other aspirants with some of them now talking openly about his aspiration being the one divisive element confronting the party.
Presidential aspirant Hackman Owusu-Agyeman's Animal Farm outburst on a number of Accra FM stations last week was a devastating attack on the Allan campaign which can only sour relations even more. Mr. Hackman Owusu-Agyeman's gripe was because Mr. Alan Kyeremanten had defied the party's code of conduct and scuttled a meeting he was having with delegates in the Upper West Region capital of Wa. About two weeks ago another NPP presidential aspirant Mr. Felix Owusu Adjapong also had his campaign meeting disrupted by Mr. Alan Kyerematen.
Mr. Felix Owusu Adjapong according to reports was having a meeting with some delegates from parts of the Ashanti Region in Kumasi when they started leaving the room one after the other.
The delegates at the said meeting left without informing their guest. When Owusu Adjapong asked why he was being deserted, he was told that another aspirant, Alan Kyerematen had brought a car outside the party office to pick the delegates.
So who should one put his bet on? The three of them, Aliu with incumbency experience and visibility, Nana with pedigree and Alan with presidential preference are the three to beat. They each have, in addition to their messages, whatever advantages incumbency, pedigree and presidential preference have to offer respectively. The tilt next Saturday would definitely hinge on these and would determine either a "one touch" or runoff involving these three. Conventional wisdom therefore is for the others to get into pre-congress pooling of resources so as to be better placed to cut deals.
Meanwhile, Captain (Rtd) Nkrabea Effah-Darteh, who was disqualified from contesting as a presidential candidate of the New Patriotic Party has said he "has been given a raw deal by his party leadership".
Speaking to the media in Accra last Friday, Captain (Rtd) Effah-Darteh said, "It would seem that somebody somewhere is very much afraid that I am solid on the ground and that I am certain to win the contest".
He said he is the only candidate from Brong Ahafo Region and during his Local Government and Interior ministries days he worked very hard in all the regions.
"On top of all this my wife is a Ga, from James Town, so this contest is my game…no wonder such a wicked coalition of opposition has led to my being disqualified. It is very painful to be forced to swallow a bone".
With his disqualification, the retired captain said, what he could have done was to go to court, place injunction on the congress, and force his detractors to come to terms with justice. "Such an action would bring untold incalculable damage to the name and image of the party…It would dislocate our programme towards election 2008 and create chaos", he said.
"I conceded that the NPP is bigger than me", he said, "I am a loyal founding member, and if it is God's wish that I should be sacrificed on such alter of grave injustice, very well, so be it".
Captain Effah-Darteh reaffirmed his loyalty to NPP a as founding member.
He said for the sake of the larger interest of the party, he would not rock the boat with an injunction on the congress.
He therefore pledged his absolute support to whoever will emerge in his absence as the presidential candidate of the party.
He said, "I have not misled the NPP Vetting Committee, and I have not lied about my past to anybody."
Narrating the case for his disqualification, Captain Effah-Darteh said when he was an army officer, he was arrested on February 5, 1981 and subsequently arraigned before a General Court Martial that acquitted him on mutiny but convicted him on misconduct. He was then dismissed from the army and sentenced to 23 months imprisonment.
He said, "The question I want Ghanaians to answer is that if a solder is convicted of a minor offence, a misdemeanor or misconduct, carrying 23 months imprisonment, can that or must that or should that disqualify him from becoming President of Ghana?"
Captain Effah-Darteh said if he was guilty of a serious offence involving the security of the state, why was he not charged with treason and why was he acquitted of mutiny?
He said, "It is my sincere view that the Vetting Committee erred very seriously in saying that because he was convicted of misconduct he cannot contest as NPP presidential candidate".