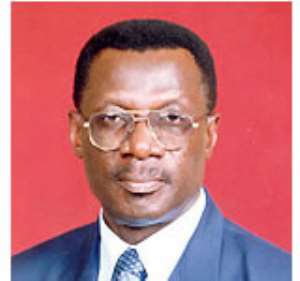 The Minister for Harbours and Railways, Professor Christopher Ameyaw Akumfi has urged New Patriotic Party (NPP) presidential aspirants to encourage alliances and merges in the run up to the December 22 congress.
He said, such alliances and mergers are very important, because they will facilitate and strengthen the unity and cohesion of the party.
In an interview with The Independent, Prof. Ameyaw Akumfi said, such alliances and mergers will enable the aspirants involved to pool their resources for effective contest in view of the fact that the "alliance" will then be contesting on a common platform.
The Harbours and Railways Minister said, going into alliances and mergers will also make reconciliation after the congress easier in the sense that, those who will be tasked to patch up "now feuding" factions if there is any - will have an easier task of dealing with a bloc instead of dealing with individuals.
By going into alliances and mergers, he added, the two spots, the position of the president and the vice president, will also be easier to fill than the possibilities are now.

He explained that, by going into alliances, the aspirants will work out a plan of action that would be respected by both parties to the alliance, which plan will include who occupies which position in the event of a win for their side.
Prof. Ameyaw Akumfi urged his party colleagues, some of who are former ministers of state, but who are now aspirants, to nevertheless remain united if the alliances and mergers he is suggesting do not work out.
He said, unity of the party should be supreme, because apart from politics demanding numbers, it is also important that members remain united so as to campaign effectively with a united front and in an atmosphere of internal peace.
Prof Ameyaw Akumfi, who is the NPP parliamentary candidate for the Techiman North Constituency, urged delegates to the congress to consider the supreme interest of the party, and to conduct their activities at the congress devoid of confrontation, rancour and bickering.
That, he said, is very important, since unity is the key to success and progress. "We are all members of the same family, and we should not be fighting amongst ourselves," he affirmed.
"We are to go to congress to elect our presidential candidate, and that does not require violence in any form," the Harbours and Railways Minister said, adding that, "we are a disciplined party, and this is the time we must prove to the whole world that, we know what democracy is about."