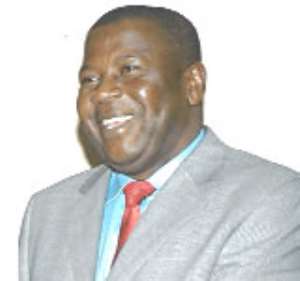 Vice-President Alhaji Aliu Mahama is making strong claims to the flagbearership of the NPP, stating that "succeeding President Kufuor is logical; I am not asking too much".
"I have served my master faithfully as the chief apprentice and if my master is leaving, I am the most qualified to succeed him," he confidently argues.
Indeed, many of his admirers describe him as the natural successor to President Kufuor because in the search for a veep, President Kufuor is reported to have stated that he wanted a candidate who was a presidential material and had vast experience spanning private and public life.
Aliu's overarching arguments are that he has served President Kufuor faithfully and loyally and has, therefore, gained the requisite experience to play a lead role in the governance of the country, if President Kufuor is stepping down after two terms in office. Having been tried and tested and well known throughout the length and breadth of Ghana, he says "President Kufuor is the headmaster; I am the assistant headmaster and it is only logical that if the head is stepping down, the assistant head should take over".
As the number two man of the presidency and head of the Economic Management Team, he argues that he has led the country to the heights of good governance, economic and political stability and a positive image on the international arena.
However, the question one may ask is whether these are enough considerations to make Alhaji Aliu heir apparent to the throne of President.
This is because the various achievements chalked up by the NPP government were as a result of shared responsibility in consonance with the President's ultimate vision.
Therefore, it will be most prudent if Ghanaians are rather told of Alhaji Aliu's unique qualities, vision for the country and how he intends to achieve them.
No doubt the Veep is acknowledged with many excellent accolades, including being a team player, dependable and reliable. Furthermore, he is noted to be a well-composed, dignified man who has never been heard insulting and casting innuendoes at his political opponents either on political platform or at a national discourse.
He is considered to be a leader who shares his thoughts with the Muslim and Christian communities whilst his demeanour has a calming unifying effect on the body politic of the country.
Regrettably, what is strongly coming across in the last few weeks of Alhaji Alius's campaign is whether his campaign team managers want imposition.
I don't have any difficulty to appreciate Alhaji Aliu drumming home his uniqueness as the sole candidate from northern Ghana. Nonetheless, if it is to do with imposing him on NPP because of his northern descent, then I am afraid that will not give him any advantage and that will not automatically translate into votes.
His capabilities and the fact that he is a Ghanaian are what, in my view, will get him to the new Presidential Villa under construction.
He himself has portrayed a national asset that cannot be detached from the NPP success story so far as his "Mankessim Address" attested to when he formally declared his campaign to succeed President Kufuor.
In that address, he called on the party to work together to create a society that would ensure individual creativity and mass productivity and pledged that "in the name of the almighty God, my leadership would be exemplified by faithful service and by example at all times".
In this vein, it will be healthier to promote his competence and resist the temptation that because he comes from northern Ghana he must be voted for.
One of his campaign managers recently said that it was only Alhaji Aliu Mahama who could draw floating voters from the Zongos, Northern, Upper East, Upper West and Volta regions. Fair enough, but the question to pose again is what about the rest of the country, since Ghana is made up of many more communities, districts and regions?
Ghana, therefore, deserves a president who cuts across all divide, is visionary, has drive to achieve set goals and targets and can move the nation forward in unity, progress and development.
That is why the position of the President is awesome, does not come easy and entails a lot of real hard work.
Having successfully served under President Kufuor for two terms, Aliu stands tall in the race to become president but first he needs to showcase the qualities he brings on board good governance.
Throughout global history some heirs apparent have been successful in executing their dreams and others have failed. An example of success has been the case of former British Prime Minister Tony Blair and his Chancellor, now current Prime Minister Gordon Brown, and the opposite is former Nigerian President Olusegun Obasanjo and heir apparent Atiku Abubakar, who failed in his bid.
The game is mixed. That is why it is called politics and the candidate with the requisite effective strategy and vision carries the day. I wish Alhaji Aliu all the best in this flag-bearer marathon because he naturally deserves to be in the NPP flag-bearer race after paying his due and loyalty to his party of choice. But I am afraid the position of a president of a country is not given on a silver platter but rather it takes hard work.
Authored by Kobby Asmah, Daily Graphic