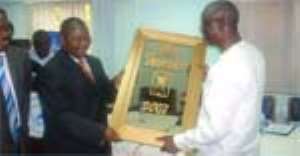 President John Agyekum Kufuor has been honoured at a ceremony in Accra with the award of 'Investor Of The Year'.
The award is in recognition of his bold initiatives and well calculated government policies which has propelled the private sector in the country.
The honour was done him at the 'Investor Excellence Awards' organized by a private medium, The Investor Newspaper.
The occasion was also used to honour some distinguished establishments in the country who had excelled in their areas of operation.
Present at the function were media experts and practitioners, providers in the service industry, players in the telecommunication and mining industries amongst others.
Some establishments were also awarded with plaques for their immense contribution towards nation building.
Ghana Telecom for instance was awarded for improving the telecommunication sector; Newmont for enhancing media and community development; Allure Spa Services for special services, art and assent in the area of art and culture; while the National Investment Bank was honoured for quality banking services.
Andrew Awuni, Press Secretary to the Presidency, who received the award on behalf of the President said it was a delight to note that people were really seeing the contributions of government to propel the private sector, which is the engine of growth in almost every economy.
"There is no doubt that the private sector is the engine of growth because when investment injection is high, it will provide job opportunities for all class of people," he stressed.
He added that the increase in the number of banking outlets in the country was a manifestation of governments' commitment to achieving the Golden Age of Business.
Mr. Awuni said, "In somewhere 2000 the number of banks in the country was 10 but within this short period their number has shot up to 24, indicating that investors in that sector have confidence in the economy."
Speaking to CITY AND BUSINESS GUIDE on the sideline, he indicated: "His Excellency certainly acknowledges this award and will continue with the private sector development drive," adding, "It is important for people to identify the opportunities available and source them for their economic and social empowerment."
The government, as part of its plans to propel the private sector, particularly individuals and small enterprises, last year launched the Micro and Small Loans Credit Scheme (MASLOC).
By keeping to its word, ¢46.5 billion has so far been disbursed to over 10,000 beneficiaries in the Greater Accra Region.
By Patrick Baidoo