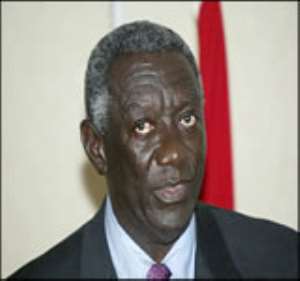 President John Agyekum Kufuor says the nation's professionals and technocrats should be disciplined and committed to duty for an accelerated socio-economic development.

He said "recent revelations about the conduct of some public officers showed that knowledge without character is a danger to the nation."

President Kufuor was speaking at the 31st Graduation ceremony of the Christian Service University College in Kumasi on Saturday.

He said the time has come for professionals and technocrats to maintain high moral and ethnical values in their work to enable the nation achieve a middle income status by 2015.

President Kufuor expressed dissatisfaction that most private universities in the country focused on the humanities and social sciences and shy away from physical science and technology in their programmes and educational curricular to the detriment of the nation's progress.

"A developing country like Ghana needs a lot of graduates in science and technology to augment her human resource capabilities," he said.

President Kufuor stressed that it behoves authorities of private universities to take a paradigm shift from their concentration on arts related courses and embrace technology-based programmes to help them live up to expectation.
He commended the University College for contributing effectively to the educational development of the country.

President Kufuor announced that government had decided to donate a school bus, 20 computers, five printers and a photocopier machine to the College to enhance academic work.

He said government was committed to collaborating with private universities and to provide them with adequate infrastructure and social amenities to enable them to admit the growing number of students who do not gain admission to the public universities due to limited infrastructure.

Otumfuo Osei Tutu II, the Asantehene, commended the authorities of the University College for introducing programmes that could help train students for the labour market.

He urged the students put into practice what they have learnt and be innovative and carry a lot of research for the benefit of the nation.

Professor Stephen Adei, Rector of the Ghana Institute of Management and Public Administration, called on Ghanaian leaders to be transparent and accountable to ensure effective use of state resources.

Professor Emmanuel Frimpong, Principal of the University College, asked university students to shun radicalism, vandalism and always use constitutional means to address issues.

In all 160 students graduated with Diploma and first degree certificates in Arts in Theology, Biblical Studies and Ministry and Business Administration.