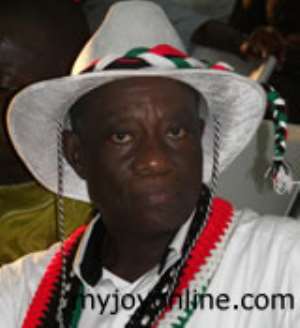 As the Convention Peoples Party (CPP) goes to congress this weekend in Kumasi to elect a Presidential Candidate and National Officers, it is a source of great joy to NDC Leader and Presidential Candidate, John Evans Atta Mills, that Kwame Nkrumah's CPP is occupying a well-deserved place in the political space of Ghana.
A statement signed by Koku Anyidoho, in-charge, Communications at the office of Prof Mills said "Just as the NDC and PNC held extremely peaceful and successful congresses, especially with the issue of selection of delegates not turning into a frenzied acrimonious battle, John Evans Atta Mills is wishing the CPP all the best and is hoping that the CPP will join the NDC and PNC on the neat side of the political divide.
"The voice of the CPP will be heard when the votes are counted, and the NDC Leader hopes that the voice of the people will be heard and respected for Ghana's democracy to reach higher heights.
"Long live Ghana's democratic dispensation."
Koku Anyidoho, In-charge, Communications at the office of Prof Mills