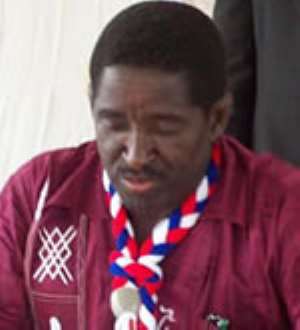 The New Patriotic Party says it is ready to consider demands for a refund of 250 million cedis filing fee paid by disqualified presidential candidate, Capt. Nkrabeah Effah-Darteh.
Effah-Darteh was disqualified from the party's presidential race by the vetting committee on the premise of a past conviction of attempted mutiny, a charge he denies vehemently.
Nkrabeah announced on Friday he was withdrawing formerly from the race and that he no longer would take the matter to court as he had earlier threatened, but demanded that his 250 million cedis he paid as part of the filing fees be returned to him.
He said he was not going to apply for the money but expected the party's leadership that decided he was not fit to compete for the post to also behave gentlemanly and send him his money.
Nana Ohene Ntow, General Secretary of the NPP told Joy News the party was rather grateful for the heroic position taken by the old soldier which showed him as a true party person.
He said for this gesture, the party would do whatever it takes to show its appreciation to the aggrieved party man, including a consideration of a refund of his money if he makes a formal request for it.
"What I want to say is to first of all show a lot of appreciation for the gracious posture that Mr. Effah-Darteh has taken of not going to court. I think he has confirmed beyond doubt that he is a true party person and that in spite of whatever inconvenience he may have suffered as a result of the decision of the vetting process, he is still sticking strong with the party and I really do appreciate that and I am sure that the national leadership of the party will appropriately register our appreciation of that formerly."
Asked if the show of appreciation would include a refund of the money, Nana Ohene Ntow who spoke on Joy FM's News Night programme, said "If the refund is the money canvassed specifically from him, we shall consider it."
The party goes to congress on December 22 to elect one of 17 aspirants as presidential candidate to contest the 2008 elections.
On his disqualification, Nkrabeah had threatened an exhaustive legal battle that posed a potential danger to the congress.