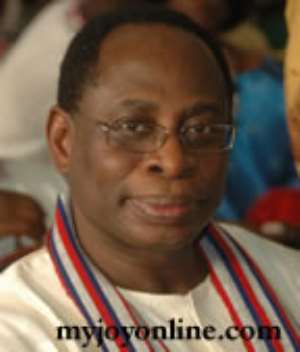 Dr Kofi Konadu Apraku, one of the New Patriotic Party (NPP) presidential aspirants, received a rousing welcome and a firm promise to get overwhelming support from the Central Region delegates at the National Delegate Congress to elect a presidential candidate for the party.

Delegates from all the 19 constituencies in the region gave the assurance when Dr Apraku addressed them at separate meetings at Agona Swedru and Cape Coast.

He urged the delegates to vote for him to lead NPP in Election 2008 because of his hard work, dedication, commitment and selfless services rendered to the party since 1991.

Dr Apraku said the party was at the crossroads because this was the first time that the NPP was going to an election to choose a presidential candidate while the party was in government.

He appealed to the delegates to elect somebody who would take good care of retired party members and foot soldiers to inspire other members to continue working for the party.

Dr Apraku appealed to the delegates not to allow aspirants to use money to influence them or to buy their votes, saying that will be a recipe for disaster for the party in 2008 elections.

Mr Kwamena Duncan, Central Regional Secretary of the party, urged the delegates to consider Dr Apraku and vote for him because he was among those who wrote the constitution of the party, a founding member and financier for the NPP in 1990 to 92.