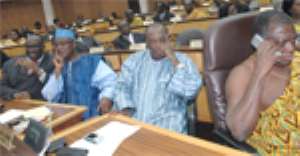 UNDER THE distinguished patronage of the Speaker of Parliament, Rt. Hon. Ebenezer B. Sekyi Hughes, Members of Parliament (MP) and other distinguished guests gathered at the forecourt of Parliament House on Wednesday evening to observe the golden jubilee festival of nine lessons and carols.
he Speaker read the Ninth Lesson while distinguished guests such as Her Ladyship Chief Justice Mrs. Georgina Wood; the Clerk of Parliament, Mr. Emmanuel Kwasi Anyimadu; Minister for Chieftaincy & Culture, MP for Subin constituency and President of PCF, Hon. S.K. Boafo; Director General of the Ghana Broadcasting Corporation, Mr. William Ampem-Darkoh; Director General of the Ghana Immigration Service, Ms. Elizabeth Adjei; Inspector General of Police, Mr. Patrick Kwarteng Acheampong; Deputy Minority Leader and MP for Avenor-Ave, Hon. Doe Adjaho; and Majority Leader, Minister for Parliamentary Affairs and MP for Tema West, Hon. Abraham Ossei-Aidooh, took turns to read the other lessons.
Rev. Dr. Abamfo Atiemo of the Victory Presby Church in Adenta, who conducted the exhortation, said unity should prevail among people because it took rulers from various regimes for Ghana to be where it is today.
He called for those in power to be mindful of the laws and policies they make for the people of Ghana and consider the effects of such laws.
The Rev. Minister implored for understanding, respect and dignity among people and urged everyone to give better treatment to the vulnerable as it was through such acts that people encountered Christ.
"We can begin afresh looking at the endless possibilities of God," he told the jubilant crowd.
Rev. Dr. Gabriel Ansah, during his prayer for the nation, prayed also for every Ghanaian to have a prosperous new year.
THis hope was that the upcoming elections would be fair, with the end result finding a great new leader for the people of Ghana.
He implored Ghanaians to comport themselves and show everyone how hospitable they are during the CAN 2008, adding that practices such as robbery should be prevented.
The carols were sung by the Voices of Democracy, Mt. Zion Methodist Church Choir, Accra Philharmonic Choir (Police Church) and the 1st Baptist Church Choir from Tema.By Sylvanus Nana Kumi & Ethel Kangberee