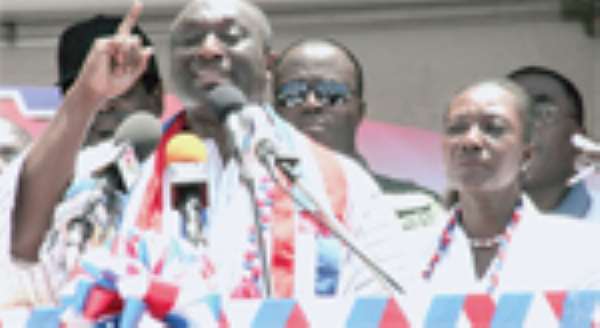 A LEADING MEMBER of Mr. Alan John Kwadwo Kyerematen's campaign team, Paul Afoko has stated that the outcome of the December 22 congress of the New Patriotic Party (NPP) would determine whether the party would retain power or be relegated to the opposition.
He said it therefore behoves all the delegates to elect a flagbearer who would be acceptable to the masses. Speaking to delegates at Bolgatanga in the Upper East region, Mr. Afoko underscored the need for a good leader who would meet the requirements of the party as well as floating voters. The loss of power, he warned, could be suicidal and spell doom for the NPP and the country.
He therefore urged delegates to avert that by voting for Mr. Kyerematen, who he claimed was the right person to boost the fortunes of the party by holding on to power.
According to him, Mr. Kyerematen had amply demonstrated that he was a good leader, by the various projects he had initiated leading to the creation of jobs and subsequent alleviation of poverty in the located areas.
Mr. Kyerematen's track record of establishing job creation ventures in most regions of Ghana as the Minister of Trade, Industry and President's Special Initiative, he averred, was a manifestation of a true and caring leader.
Mr. Afoko cited the revival of the Northern Star Tomatoe Factory at Pwalugu in the Upper East Region, the revamping of the Volta Star Textile Company, formerly the Juapong Textile Company in the Volta Region and the sugar cane industry to be established in the Northern region as examples of fruitful projects engineered by Alan.
From his track record of job creation, he emphasized, Alan would be more appealing to floating voters than the other aspirants.
He reminded the delegates of the tyrannical governance the country witnessed under the (P)NDC administration and appealed to them to soberly reflect and vote for Alan to prevent the return of (P)NDC rule. He told them also to disabuse their minds of tribal and religious sentiments during the congress and rebutted claims that Alan was a novice in the party, saying the misinformation was being propagated by his detractors.
Alan, he explained, had been the leader of the Young Executive Forum, which was duly recognized by the party's constitution.
Later in an interview with DAILY GUIDE, Mr. Afoko expressed optimism about Alan winning the race in view of the acceptance of his message by the delegates. The North, he indicated, would be another stronghold for Alan.
A cross-section of delegates interviewed by the paper in the three northern regions openly declared their support for Alan.
DAILY GUIDE has learnt that most aspirants are trooping to the North to round-off their campaigns ahead of the December 22 congress.From Stephen Zoure Bolgatanga