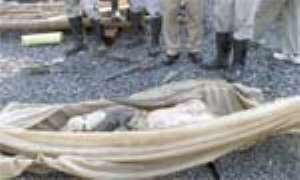 ANGLOGOLD Ashanti, the largest mining company in the country, has recorded yet another death of an illegal miner at its Adansi shaft in Obuasi.
The body of the unidentified 'galamseyer', who is believed to be in his late 20s, was retrieved by the company's Rescue Team Department in the afternoon of last Wednesday.
The body, when retrieved from the 20th level of the Adansi shaft, which is 2,300 feet underground, had the head, left arm and leg completely chopped off, thereby making identification difficult.
It was whitish and had started decomposing when the six-member rescue team and a detective, Corporal George Dzamesi from the Obuasi Central Police Command, retrieved it.
The almost two-hour operation was witnessed by a section of the media including DAILY GUIDE which traveled underground with the rescue team.
The body of the deceased had since been deposited at the Anglogold Ashanti Hospital in Obuasi for autopsy.
In an interview, manager of the Adansi Shaft, Stephen Daniels disclosed that this was the third time the body of a 'galamseyer' had been retrieved at the Obuasi shaft.
He said the 'galamseyers' were attracted to the Adansi shaft because it was the richest ore deposit of the company.
Mr Daniels explained that they got information about the death from some 'galamseyers' four days ago who sent word that one of them had been trapped underground at the Adansi Shaft.
He said the information was corroborated by the locomotive engine drivers who transport miners to the underground, and that in the early morning of last Wednesday, they complained of an offensive odour emanating from the 20th level of the Adansi Shaft.
The shaft manager said because it was a cardinal policy of the company to maintain high standard of environmental cleanliness underground, a search party was dispatched to ascertain the cause of the offensive odour.
He said the team came back with a report that the smell suggested that a dead body was decomposing at the site.
"We therefore quickly called for reinforcement from the rescue department who diligently went underground and retrieved the body," Mr. Daniels pointed out.
The shaft manager speculated that the deceased might have fallen from the sides of the shaft when he tried to get underground through it.
He lamented that the 'galamseyers' in their quest to get underground to carry out their illegal mining activity, dig deep pits to connect to the shaft that links the surface to the underground where the ore deposits were situated.
He said though the company was doing everything legally possible to ward off 'galamseyers' from the company's concessions, the illegal miners were bent on employing new tactics in their operations, adding that the company would continue to close the pits the 'galamseyers' had created.
From Morgan Owusu, Obuasi