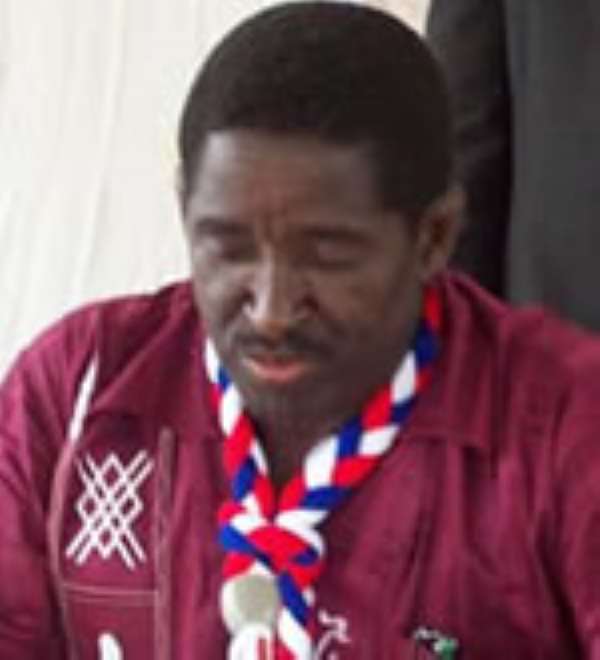 Capt. (Rtd.) Nkrabeah Effah-Darteh has asked the national executives of the New Patriotic Party to return his ¢250 million cedis filing fees if they have disqualified him from contesting the presidential slot.
At a press conference to announce his formal withdrawal from the race, the old soldier said he felt the party's leadership had dealt him a raw deal, after disqualifying him and yet refusing to give him an opportunity to explain himself, maintaining that he was never tried for treason as the party had charged him.
He maintained that at any rate, the Provisional National Defence Council nullified whatever charges or convictions were slapped on him and wondered what became of the national pardon.
Nkrabeah said he would no longer go to court over the matter in the interest of the party, but accused the Chairman, Peter Mac Manu and the leadership of deliberately betraying him, and called them "a wicked opposition coalition" who handed him the raw deal.
"If a soldier is convicted of a minor offence, of misdemeanor, of misconduct, carrying 23 months imprisonment, can that, or must that, or should that disqualify him from becoming president of Ghana? If I were guilty of a serious offence involving the security of the state, why was I not charged with treason? Why was I acquitted of mutiny? It is my very sincere view that the Vetting Committee erred very seriously in saying that because I was convicted of misconduct, I cannot contest as NPP flagbearer. Even if anybody insists on the conviction as holding, what about the PNDC decision to declare null and void the conviction and sentence? So, where have I lied to the Vetting Committee? I have not been given an opportunity to react to these false data on me."
He said when the party chairman gave him the said conviction and he pointed out the obvious flaws in them, Peter Mac Manu quickly took the document from him.
Why must I be condemned on the basis of a false report? Will all respect Mr. National Chairman, why did you not invite me to the hearing of the appeal? Was it fair that you invited the chairman of the Vetting Committee, Mr. Peter Ala Adjetey but left me out and I have been given a very deal by my party leadership? They have been most unfair to me and I really feel very much betrayed by my own people."
He said he would expect the party's leadership to return his money to him, and they should not expect him to apply for it.
"I paid that money as part of the filing fee, now if the Vetting Committee and my party, they are saying that I am not qualified to stand, I'm expecting them to say that look you are not qualified so take your money, I am expecting them to behave like gentlemen and bring my money to me."