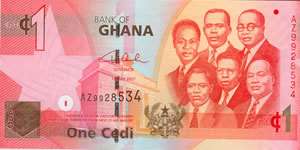 Misunderstanding is already developing among residents of the Tamale metropolis, particularly between service providers and customers, over the use of the old currency in transactions.
Some service providers, including taxi drivers and stationery dealers, told the Daily Graphic that they were no more willing to accept the old banknotes and coins, since the deadline for the expiration of their use was drawing near.
Similarly, some customers are reluctant to receive the old currency as change during transactions.
By December 31, 2007 the old currency is expected to be withdrawn from the system, but there are still large sums of the old currency in the system and some residents said they were not expecting these to be used up before the deadline.
Many residents have indicated their resolve to troop to the few banks in the metropolis to change their old currency for the new, when the old ones finally expire.
Most of the residents are therefore trying to avoid the situation where they would have to join long queues at the banks to change their old currency for the new.
Meanwhile, some of the residents are calling on the Bank of Ghana to make more of the lower denominations of the new currency available to facilitate their business transactions.
Although the Bank of Ghana, in its ongoing radio campaigns, is entreating Ghanaians to use the coins for smaller transactions, there seems to be insufficient coins in the metropolis.
The residents complained of impediments in going about their day-to-day business when in possession of the five, 10, 20 and 50 new Ghana cedi notes.
"I had to leave my three thousand cedis with a customer, because he gave me GH¢l0 (or ¢100,000) and made a telephone call amounting to GH¢1.30 [or ¢13, 000], but I did not have enough coins, so I gave him GH¢9 (or ¢90,000)," Rahinatu Abubakari, a communication centre operator lamented.
According to them, some bank cashiers are reluctant to give them the lower denominations, even upon request, thus leaving them with no option but to receive the higher denominations.
Some of them also called on the bank to introduce some GH¢2 notes into the system to facilitate business transactions.
The new currency was introduced in July this year and has since been in use alongside the old currency.