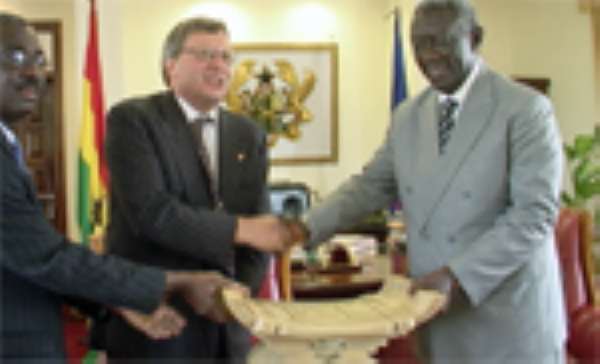 GORDON wetherell, outgoing British High Commissioner to Ghana has praised Ghana's good governance and socio-economic performance, saying the country was heading in the right direction.
He made this observation when he called on President John Agyekum Kufuor to bid him farewell, at the Castle, Osu.
Mr. Wetherell described Ghana as being at the "forefront of good things happening in Africa" in terms of governance, economic transformation among other things.
Having mentioned how he and his family had enjoyed the friendliness of the people of Ghana, he said "it is sad to be leaving at this time".

He commended Ghana for consolidating good governance in all aspects of its economy after 50 years of independence.
"This is a vibrant time to be here," he said after commenting on the discovery of oil in the country, adding "lots of good things are coming".
The High Commissioner stated that his three and half years stay in Ghana was marked by improved relations between his country and Ghana.
President Kufuor said it was true that the relations between Ghana and UK had "really warmed up and become stronger".
He said his state visit to the UK was something "we will live with forever. It is indelible."
President Kufuor lauded the outgoing envoy for his outstanding work during his term of office in Ghana.
Mr. Wetherell had helped boost bilateral relations between Ghana and UK by arranging support and funding for projects such as political programmes and economic projects as well as budgetary support among others in Ghana.
He as well championed the Ga Educational Fund and facilitated a memorable visit by some members of the traditional council to the UK in August 2007.

President Kufuor presented the British envoy and his wife with gifts which included a piece of traditional Kente cloth and a traditional carved stool.
Mr. Wetherell would leave for Antarctica for a month, where he would await reposting.
By Emelia Ennin