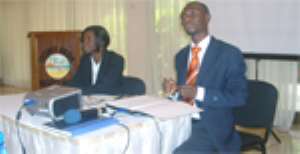 PROCREDIT SAVINGS and Loans Company Limited will from next year grant agro-loans to individuals and enterprises in the agricultural sector.
The loans are to be used for farm-related activities including planting, purchase of farm materials, fishing gear and the production and processing of agro-products.
The facility is also intended to help finance agricultural inputs such as mechanized services and farm labour.
Prospective seekers of the facility will need a proof of ownership and existence of a viable business, business experience of at least three production cycles or a year and any of national identity licences such as voter ID, driver's licence or any other. Potential recipients of the loans also do not need collateral but guarantors.

Apart from this facility, the company also offers affordable deposit products, attractive investment opportunities and as at October this year, it had opened more than 100,000 savings and current accounts, with deposits amounting to about $19.79 million.
The company's loan portfolio as of the same period was $22.15 million.
Moreover, at the close of 2005 and 2006 its audited profit after tax was $406, 000 and $461,000 respectively.
Speaking to CITY AND BUSINESS GUIDE, the Managing Director of ProCredit, Edwige Takassi said the disbursement of the loan is her outfit's contribution to the nation's economic development and growth, adding, "Procredit believes that by providing the right support and credit facilities, farmers' agricultural yields would increase substantially to expand the country's export business."
She stressed that the facility is tailored to support and improve agricultural business and processing activities like crop development, livestock breeding and fish farming.
She said though there is a high risk in granting agro-loans, her outfit has put in place the necessary monitoring measures to retrieve loans from recipients.
"Currently, due to poor monitoring and bad repayment behaviour of loan recipients, disbursed agro-loans are perceived as 'free money' and the lack of information on the economic growth of potential clients and experience of clients and other factors are responsible for the difficulty in loan recovery," Madam Takassi reiterated.
She added that the loan facility is to help address some problems which contribute to decreasing economic margins for crops like maize, millet, sorghum and some of the bottlenecks to the agricultural sector development as specified in the 2006 Annual Progress Report by the Food and Agricultural Ministry (MOFA).
The MOFA progress report identified untimely power services for ploughing land for annual crops in all ecological zone as well as insufficient credit facilities for agricultural inputs to expand farm lands and intensify cultivation amongst other factors as the bane of the agricultural sector.
By Patrick Baidoo