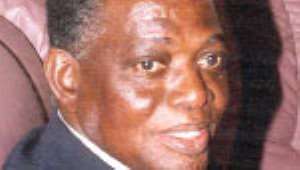 THE FORMER Majority Leader in Parliament and a New Patriotic Party (NPP) flagbearer aspirant, Felix Owusu Agyepong has asked Ghanaians to have respect for President John Agyekum Kufuor and accept his claim of neutrality concerning the 17 candidates campaigning to succeed him.
"The President, like any human being, may have a preferred candidate but once he has openly denied his support for a particular candidate and since no one has an opposing evidence to his claim, we (flagbearer candidates), members of the New Patriotic Party and Ghanaians in general must respect his stand and shun those peddling this falsehood as a campaign message," he pointed out.
Mr. Agyepong stated these in an interview with DAILY GUIDE in Bolgatanga, a day after he and his campaign team had gone to the Upper East region to interact with delegates.

He conceded that most of the party's foot soldiers and activists had over the years been neglected by the party and therefore had every right to be bitter.
However he explained that it was due to the workload the NPP government came to meet and had to clear.
"I have had the opportunity to meet a couple of them in their constituencies and have apologised to them. I explained to them that it was not deliberate.
When we came to power in 2001, we realised there was the need to think about the welfare of all Ghanaians first, before giving our 'children' a special treat. After all, they brought us to power and we can't deliberately snub them," Mr. Agyepong added.
According to him, though rumours of dishing out money to delegates kept spreading throughout the country, no one had been able to provide proof to trigger a reaction from the party's executive or the flagbearers themselves.
"These monies that people claim are changing hands may just be the usual parting gifts that we give to people who we have invited to come and spend time with us and others who have travelled from places to come and listen to our campaign messages; and that one, I don't call it a bribe.
But if any of the candidates or their team members give money to delegates to buy their votes then I see that as bribery.
This is money I describe as royalties that have been long overdue and unpaid. I have told delegates that after collecting them due to the difficulties in life, they should discard such politicians since they are only out to buy their conscience and lord it over them, should any of them become the next President," he indicated.
Mr. Agyepong, like almost all the flagbearer candidates, described himself as a unifier and further said he was one person who had not wronged many people in the party and the country and could therefore attract votes from outside the NPP.
The former Majority Leader rubbished claims by some people that he was only campaigning for another candidate.
"I have been to the Upper East region four times to consult party executives and delegates.
They are the kingmakers and I believe they are wise enough to select the right presidential candidate, after most of us have presented our campaign messages to them. I can't be calling on them and waste their time if I were not serious," he said.
Mr. Agyepong reminded the media of their role as watchdogs and defenders of truth and urged them to stay as such and not join in the spread of falsehood.
From Ebo Bruce-Quansah, Bolgatanga