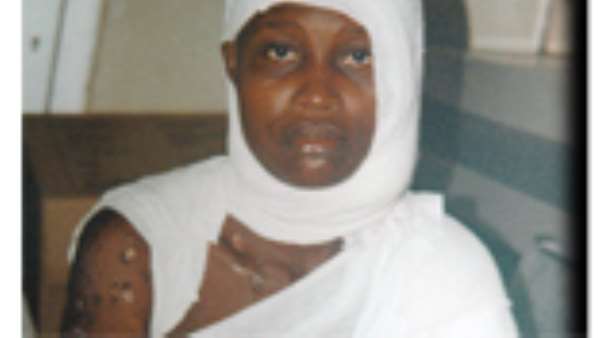 A 41-YEAR-OLD painter yesterday tasted the wrath of the law when he appeared before an Accra Circuit Court for 'frying' his wife with boiling oil.
Philip Kwaku Ofori, a.k.a Koo Ofori was reported to have poured simmering hot oil on his lover, whom he accused of having an affair.
He pleaded guilty to the charge of causing harm, and was therefore convicted and sentenced to a jail term of 10 years in hard labour on his own plea.
Before he was sentenced, Koo Ofori pleaded with the court, presided over by Mrs. Georgina Datsa, to be lenient with him, as he had a son with the victim, but his plea was rejected after he told the court that he would not be in a position to assist the lady to undergo plastic surgery when asked whether he could do so.
The victim, Janet Akos Amoah, who suffered various forms of injuries, swellings and burns, is still receiving medical attention at the Achimota Government Hospital.
The prosecutor, ASP George Abavelim informed the court that the complainant in the matter was a concerned citizen living at Achimota in Accra.
Koo Ofori and Janet, the prosecutor said, had been in a six-year relationship with a five-year-old son and they all stayed in the victim's family house in Accra.
The prosecutor disclosed that recently, there was a misunderstanding between Koo Ofori and the victim, for which reason he was asked to leave the house.
On November 19, 2007 at about 11.00 am, the convict, currently lodging in a kiosk in the same vicinity, went to buy fried yam and fish by the roadside, opposite the victim's house.
After taking the food, the convict picked up a quarrel with Gifty Amoah, the victim's sister, who was passing by, accusing her of introducing her sister to another man.
The victim, then in her room, came out and attempted to separate the two but Koo Ofori got offended and assaulted her.
Janet, then crying, decided to go back to her room, but just as she turned her back on him, the convict lifted the frying pan full of hot oil which was on a fire beside the yam seller and poured it on her.
Koo Ofori then took to his heels but witnesses at the scene raised an alarm and after a hot chase, he was apprehended and taken to the Tesano Police Station where a complaint was lodged.
The victim was rushed to the Achimota Government Hospital where she was admitted.
After investigations, Koo Ofori was charged with the offence and put before court.
By Mary Anane