NDC's Sly Akakpovie Is Dead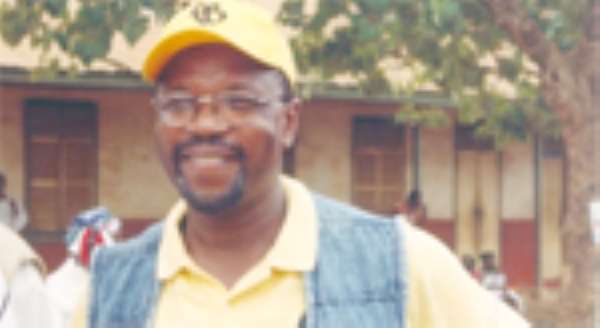 MR SYLVESTER Akakpovie, aka Sly, 52, a suspended Ashanti Regional Secretary of the National Democratic Congress (NDC) who recently graduated from the Ghana School of Law as a full lawyer has been reported dead.
Sly, who doubles as a professional pharmacist and is described by his admirers as one of the level-headed politicians in the country, died in the early hours of yesterday at the Komfo Anokye Teaching Hospital (KATH) in Kumasi after a short illness.
Family and hospital sources said he died of cardiac arrest a few hours after he was admitted on Tuesday night. The sources said before his death, Akakpovie, who lectured at the Kumasi Polytechnic, occasionally complained of heart disorder.
He was said to have personally driven his car, with registration number AS 9405 E, to the hospital at about 11.00pm on Tuesday to check his health condition but died just three hours later.
The paper gathered that Sly was admitted at the hospital without informing his wife, Madam Mawuena Agbezudor, or any of his six children.
Speaking on Peace 104.3 FM yesterday, Madam Agbezudor, his wife of 21 years said "I only heard at dawn that my husband was ill and was hospitalized, and that I should come.
When I got there he looked pale and was gasping for breath. In no time he started foaming from the mouth and later passed away".
He succumbed to death at about 2.00 am on Wednesday.
Meanwhile, the chief of the Voltarian community in the Ashanti Region, Togbui Fuga has explained that the late Akakpovie fell sick few days before his passing out as a newly qualified lawyer on October 5, 2007 after a four-year study of law.
He said they did not take the sickness seriously as Mr. Akakpovie often complained to them that the cause of the sickness was due to tiredness and fatigue after the exams.
Togbui Fuga said since he was called to the Bar, Sly's health had improved, until Tuesday's incident, when he personally drove to KATH to seek medical attention.
Giving a brief history of his life, Togbui Fuga said Mr. Akakpovie became active in politics in 1996. He said in 2000, he was attracted to many people of the political divide including members of the NPP and other opposition parties in the country due to his constructive analyses.
He said Akakpovie became the executive secretary of the association of Voltarians resident in the Ashanti and Brong Ahafo Regions and also an assembly member of the Batorme Electoral area in the Volta Region, a position he held until his death.
The late Sly had for the past two years been battling with the regional executives of the NDC, led by its chairman, Mr. Daniel Ohene Agyekum, over his suspension from his elected position as regional secretary.
Regional executives of the party sacked him on accusations that he had been flirting with the Dr. Obed Asamoah-led Democratic Freedom Party (DFP), a splinter political party formed from the NDC after the latter's infamous Koforidua congress a couple of years back.
He was survived by a wife and six children - three males and three females - Mary, Seyram, Semefa, Mawuli, Zanetor and Cristobel Akpakpovie.
Final funeral arrangements would be announced later.
From Stella Danso & James Quansah, Kumasi