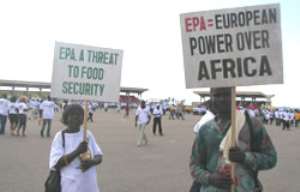 Ghana has finally appended its signature to the much debated interim Economic Partnership Agreement or EPA-lite with the European Commission.
The EPA-lite effectively replaces the current Cotonou agreement which expires by the end of this year.
This agreement will provisionally allow 80 percent of some European goods into the Ghanaian market duty-free and quota-free while Ghana will continue to have 100 percent access to the ED market.
This means Ghana will continue to impose tariffs on items described as sensitive products such as textiles, agricultural products imported from Europe as well as items that can be produced by the country's manufacturing sector. The Minister for Trade and Industry Joe Badu Ansah signed the deal for Ghana at the Castle today.