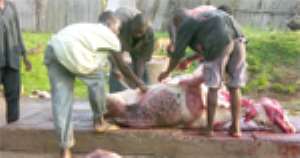 Meat consumers in the Ho Municipality face the risk of food poisoning this Christmas unless conditions at the "slaughterhouse" change dramatically.
The open space "slaughterhouse" has neither drainage nor facilities for waste disposal.
Vultures, dogs and flies have become regular customers to the place where they compete with environmental health officers to inspect meat meant for public consumption.
Dogs and vultures compete aggressively with butchers for their share of meat.
Alhaji Adam Kuri, Spokesperson for the Chief Butcher, said the slaughter house, built 33 years ago lacked water, washrooms and kraal, where animals meant for slaughtering were kept.
He said the butchers used to slaughter about 15 cattle a day during festivities but the number had reduced drastically due to the deteriorating condition of the place.

Simon Mawuli Ayi, Environmental Health Officer in charge of the slaughterhouse, told the GNA that conditions at the site were not favourable and that it could trigger the outbreak of diarrhoea and food poisoning.
He said the slaughtering slab could promote bacterial growth because dogs and vultures defecated on it.
Meanwhile, Ben Adjorlolo, Ho Municipal Coordinating Director has said the Assembly is ready to help improve conditions at the place. GNA