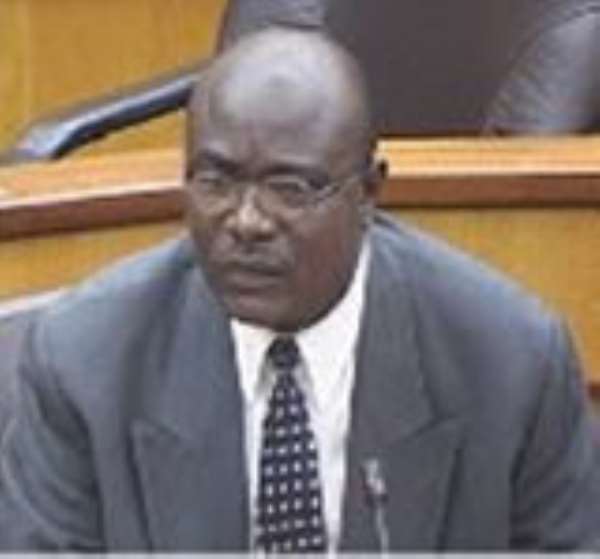 The Minority NDC in Parliament on Wednesday raised issues over budgetary allocation to the Office of Accountability, saying it was not an office backed by law to receive separate or itemised allocation.
According to them, the functions of that office was not known to Parliament neither had reports on its activities been presented to the House so it was wrong to appropriate monies to an office which does not account to Parliament.
Some members of the minority raised the issue during contributions to a motion to approve a sum of 110,039,251.00 Ghana cedis for the services of Government Machinery for the 2008 fiscal year moved by the Minister of Presidential Affairs, Mr Kwadwo Mpiani.
Mr. Edward Doe Adjaho, Deputy Minority Leader, said the minority had no problems in supporting budgetary allocations to the Office of Accountability if it was placed under the Office of the Chief of Staff or any office recognised by Parliament.
He said it was wrong for the Office of Accountability to stand on its own and receive allocations when it was not accountable to Parliament, although Parliament had oversight functions over budgetary allocation to government ministries, department and agencies.
Mr. Haruna Iddrisu, (NDC-Tamale South), had earlier, called for the scrapping of the office.
Dr. Benjamin Kunbour, (NDC-Lawra Nandom) also supported calls that monies should only go to that office if it was placed under the right office and its activities made known.
Mr. Mpiani, however, said he was prepared to come before Parliament when invited to let members know about the activities of the Office of Accountability
Earlier, the House approved 516,803,855.00 GH cedis for the Ministry of Health and 1,101,876,530 GH cedis for the Ministry of Education.
Major Courage Quashigah, (rtd), Minister of Health Minister, in moving the motion for the approval of the budgetary allocation to his Ministry, said a look at the demographic health survey results might indicate that the health ministry was not doing well.
He said what was basically wrong, however, was that the right interventions were in place but road accidents, low physical activity and unhealthy lifestyles were creating the problems for the ministry.
He said it was in this direction that the Ministry was pursuing the regenerative health and nutrition programme to promote healthy lifestyles to keep the population healthy.