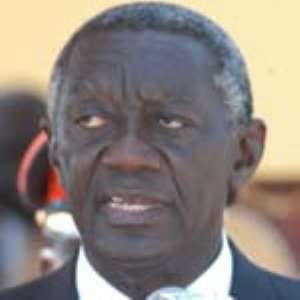 President John Agyekum Kufuor on Wednesday conferred with the United Nations (UN) Secretary General's Special Representative for Cote d'Ivoire, Mr Y.J. Choi, at the Castle, Osu.
Their discussions were held behind closed doors and believed to
have centred on the peace process in the West African country.
Mr Choi, in his short opening remarks described the political
situation in that country as "quite interesting and quite complex."
He conveyed the UN Chief's appreciation to President Kufuor for
the leadership and invaluable contribution he has made towards the restoration
of peace and security in Cote d'Ivoire.
Mr Choi, a career diplomat from South Korea, previously served
as the Assistant Secretary-General for Peacekeeping Operations at the
UN in New York from 1998-2000.
He has also served as his country's Vice Foreign Minister,
Ambassador in Vienna and Permanent Representative to the UN.