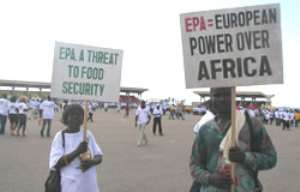 After vehement protests and controversy over the trade partnership agreement between the EU and Africa Caribbean and Pacific countries, Ghana is set to sign the much criticised EPA.
But the government is signing an abridged version called EPA–lite.
An official signing ceremony between the government and the EU will take place at the castle later this afternoon.
The EPA-lite is a partial arrangement that will ensure that exports of certain sensitive products to the EU are protected from higher tariffs while negotiations on the original text of the EPA continue.
It is a compromise proposal from the European Union to commit ACP countries to continuous trade relations. The current preferential agreement known as the Cotonou agreement expires by the end of 2007 and the EC says it will not renew it as ECOWAS is demanding.
The EU wants to start implementing a new trade arrangement known as the EPA with the developing countries by January next year.
This deal will allow exports to the EC 'duty-free-quota-free' while the EU in turn enjoys similar preferences on its exports to the developing markets.
A delegation from the European Commission and some representatives of ECOWAS countries and their negotiators will meet at the Castle Osu for the ceremony.
The latest development was unexpected after the strong stance adopted by African heads of state against the deal at the just ended EU-Africa summit in Lisbon.
Barely three weeks ago Ghana's chief negotiator at the Trade Ministry, Sae Berewusi spoke emphatically about Ghana's objection to the deal.
The signing this afternoon will make the country the second within ECOWAS after Ivory Coast.