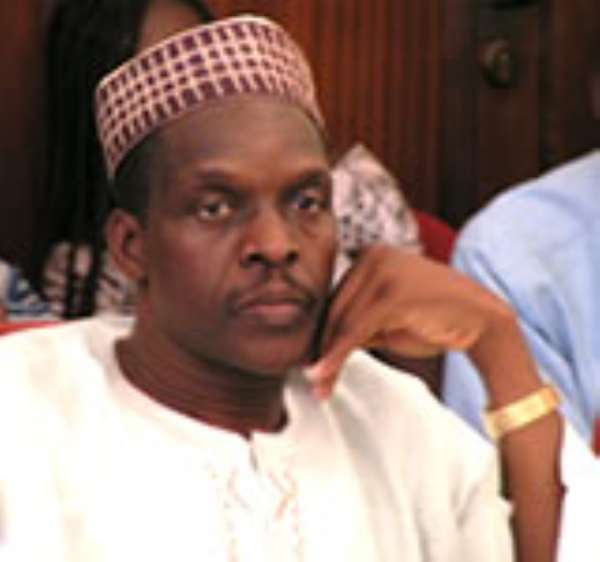 The National Democratic Congress (NDC) will change some provisions in the 1992 Constitution of Ghana that are considered to be drawing back the country's democratic process, if voted back to power in the 2008 Election.
The NDC would also improve the decentralization process by marrying it with local government systems and relevant organisations to tap the wisdom and values of the people.
Mr. Alban S.K. Bagbin, Minority Leader in Parliament said these at the inauguration of a-10-member-executive of the NDC Chapter of the Tertiary Education Institutional Network Coordinating Council (TEIN-C) of the Upper West Region, at Jahan Training College in Wa on Monday.
He dismissed the view been held by some people that democracy was entrenched in the country, saying the decentralization process had not been working well to consolidate the democratic process.
Mr Bagbin said the New Patriotic Party (NPP) had come to the end of the road, as it failed to fight and eradicate corruption, which has become endemic in all sectors of the economy.
He said the NPP had no permanent sources of funding development projects, and mentioned that the National Youth Employment Programme was faced with such difficulty.
Mr. Bagbin said the NDC would pursue visionary initiatives that would help move the economy forward for the benefit of the people.
On the Northern Development Fund, he said the NPP Government had not been committed to bridging the development gap between the Southern and the Northern parts of the country.
Mr Bagbin said the 250 billion cedis that government allocated as seed money for the Northern Development Fund was only a face saving gesture.
He said development partners put pressure on government to make special allocation of money for the development of the North due to the devastating floods hence the seed money.
Mr Bagbin said "We all know what happened to the HIPC and the Ghana Poverty Reduction Strategy Fund, the North did not benefit even though the three Northern regions are the poorest in the country."
He said the youth of the country have been left in the midstream, as there had not been any concrete development plan designed to manage the unemployment situation.
Mr Caesar Kale, the Regional Secretary of the NDC, urged the executives to work hard to enable the party win back power in the 2008 Election.
Mr Mohammed Awal Issah, President of the TEIN-C, said the Council was formed to coordinate the activities of all members of TEIN in the various institutions to achieve a common goal.
He assured the regional party executives that the Council would propagate the bad policies and programmes of the NPP so that the people would vote out the NPP from power.
Alhaji Amidu Sulemana, a former Regional Minister, asked members of TEIN to be extra vigilant at polling stations during the 2008 Election and not to allow themselves to be swayed by gifts from the NPP to take wrong decisions.