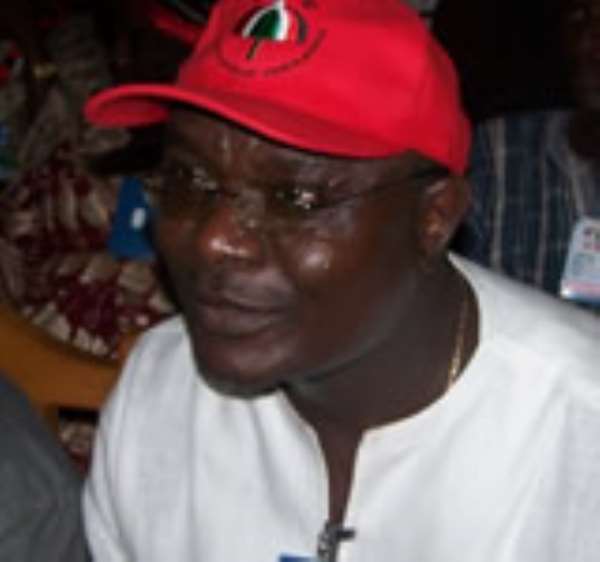 Deputy Minority Leader in Parliament, Mr. Doe Adjaho, has for the second time in a week, taken Members of Parliament to task for the low attendance for the debate on the 2008 Budget.
On Monday, he threw the searchlight on the absence of a number of Ministers of States as the House debated motions for the approval of budget estimates of some Ministries and State Organisations.
"I'm not impressed with the number of Ministers on the floor, on this debate," Mr. Adjaho said, as he contributed to the debate on a motion to approve the estimates for the services of the Public Services Commission for the 2008 fiscal year.
As at 1047 hours, when the House was busily in session, less than 10 Ministers and Deputy Ministers were in the chamber.
The House however approved the estimates for seven state organizations, but stepped down three, for further consultations.
The argument was that the allocations for the three-the Electoral Commission (EC), the National Commission on Civic Education (NCCE) and the National Media Commission (NMC) were not enough to effectively carry out their duties, especially in the election year of 2008.
Those approved are GHC 629.893 for the Public Services Commission; GHC 173.700 for the services of the District Assemblies Common Fund; GHC 4.12 million for the Commission on Human Rights and Administrative Justice and GHC 71.99 million for the Ministry of Foreign Affairs, Regional Integration and NEPAD.
The rest are GHC 1.9m for the services of the National Development Planning Commission; GHC 113.01 for the Revenue Agencies and GHC 90.57 million for the Ministry of Finance and Economic Planning.
The EC was allocated GHC 36.8 million, GHC 4.29 million for the NCCE and GHC 236,091 for the NMC.
Despite the approval for the Ministry of Foreign Affairs, Regional Co-operation and NEPAD, Dr Charles Brempong Yeboah the Deputy Sector Minister said the Ministry had the approval for the sum of GHC 71.9 million out of the requested estimates of GHC 170.8 million.
Mr Stephen Kwaku Balado Manu, NPP MP for Ahafo Ano South, in a contribution, said there had been threats of ejection in some of Ghana's missions abroad for non-payment of rent and called for a second look at the service conditions of the staff of the nation's embassies and chancelleries.