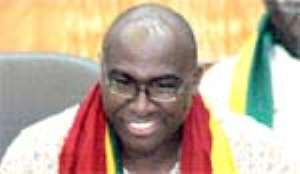 PAPA OWUSU Ankomah, Member of Parliament (MP) for Sekondi and a New Patriotic Party (NPP) presidential aspirant has noted that more women should be given the chance to man public offices to enhance the country's development process.
From Ebo Bruce-Quansah, Bolgatanga
He believed that the nation could do better than it was currently doing if more than 10 per cent of public offices, especially District Chief Executive positions, were given to women.
He said there was the need to build the capacity of women to contest leadership positions because of the existence of what he termed "possession due to capability and not sympathy".
The presidential aspirant was interacting with the press in Bolgatanga, capital of Upper East Region after addressing teeming crowd of youth in the town.
He said though most of the youth in the party were not delegates, they still had crucial roles to play, and urged them to conduct themselves well so as to attract more members to the party.
Papa Owusu Ankomah appealed to delegates to select him on December 22 to lead the party, noting that choosing him the flagbearer was the surest way to keep the party in power.
He also talked about the seeming neglect of party elders, past officers and foot soldiers, describing the situation as unfortunate.
"If I am selected to lead the party after December 22, I will initiate a programme to reward these groups of persons who played helpful roles to bring the party to power. I believe this will purge the pain and hatred that some of them have of the years kept at heart," he noted.
He contended that now that most constituencies had selected their delegates, the delegates could easily be contacted and influenced by some aspirants, and advised delegates to consider the growth of the party first and not succumb to the "he who pays better" syndrome.
Answering a question as to how he would help put an end to the troubles the Fulani herdsmen in the three Northern Regions were causing, the Sekondi MP suggested the creation of grazing lands, on which cattle could graze without moving into farms to destroy crops.
This way, the movement of cattle could also be monitored to curb the alleged rape cases that had always been attributed to the herdsmen.
He said some chiefs and indigenes were reported to be aiding these people in the nefarious act, and warned those involved to put a stop to it.
On security, the former Minister of the Interior called on the citizenry to inform the security agencies about unusual movements and activities of people in their communities, even as government also put in measures to protect them.
He later called on some delegates in the region.