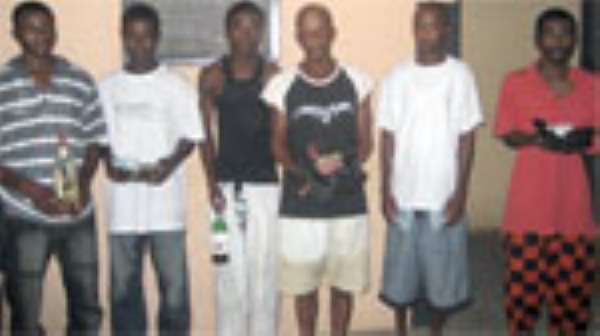 POLICE PERSONNEL from the Kpeshie Divisional Command last weekend stormed a drinking bar at Okpoi Gonno Railway at Nungua, a suburb of Accra, and arrested seven persons suspected to be criminals.
The suspects were allegedly in the act of fortifying themselves with juju (charm) when they were arrested.
The Police discovered that the suspects were being served with a concoction prepared from a mixture of Akpeteshie (local gin) and Indian hemp or Marijuana (wee) in two bottles with two dead snakes.
While ordinary customers were being served with a mixture of Akpeteshie and 'wee', commonly called 'Wee Bitters', special customers received 'Wee Bitters' with the dead snakes in the inner chamber of the bar.
The 'juju' man, known as Kudzo alias 'Snakeman' who is also the operator of the bar, however escaped, but the Police succeeded in arresting John Agbenyadzi, Daniel Kwawu, Foster Awutey, Francis Doe, Ahmed Dramani, Gilbert Agbagba and Clement Duho.
The Divisional Commander, Chief Superintendent Elizabeth Dassah told DAILY GUIDE that since criminals had resolved not to allow law-abiding Ghanaians to enjoy their freedom, the Ghana Police would also not let the criminals 'sleep' in peace.
She said the Police were taking the battle to the criminals wherever they were and would make sure they were smoked out before they (criminals) think of striking.
C/Supt. Dassah was of the view that the said Kudzo, alias 'Snakeman' might have been serving the suspected criminals with a 'fortifier', adding that armed robbers especially, went there regularly to seek spiritual fortification before embarking on their operations.
The Commander informed DAILY GUIDE that the suspects would be screened and those found culpable would be put before court.
Another operation at the Nungua Shell Filling Station Area led to the arrest of five persons, also suspected to be criminals, with a quantity of 'wee' in a black polythene bag.
They were Fred Borketey, Godfred Baah, Bishop Appiah, Kwame Brefo and Daniel Obiri Danquah.
By Wisdom Peter Awuku