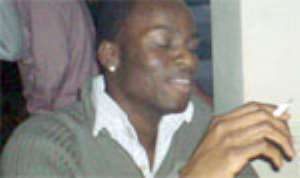 REPORTS REACHING DAILY GUIDE indicate that the 21-year-old man, who allegedly murdered the Ghanaian medical doctor in London recently, was engaged in an examination fraud which had been uncovered by the late consultant paediatrician.
According to the report, the alleged assailant, David Francis Quartey, who lived in London with the murdered woman and her only son, Adama Thompson, had someone sit for his university entrance examinations for him, but the imposter bunked the exams.
The late Victoria Bernice Okaikor Anyetei later got wind of this development and demanded on that fateful day that David go with her to the school to ascertain the truth about the exam fraud.
She was alleged to have threatened to send him back to Ghana if he was indeed involved in the exam fraud.
It was believed that with the truth about to surface, David hatched a plan to eliminate the medical practitioner to avoid the disgrace that was about to befall him and also avoid being sent back to Ghana.
David was arrested for the gruesome murder and had since appeared three times before a London court.
Police officers investigating the brutal murder of the 54-year-old medical doctor, believed that her assailant laid in wait in her Toyota Avensis, and pounced on her as she sat in the driver's seat to set off for work. The car was parked in her driveway in a quiet cul-de-sac in Dartford, London.
David , the 21-year-old son of a Takoradi-based high court judge, allegedly plunged a kitchen knife 56 times into the neck and other vital parts of the paediatrician's body, snuffing the life out of her.
A DNA test conducted on some teeth bite wounds found on the suspect's arm, matched some human flesh that was left in the teeth of Dr. Anyetei, leading to his arrest.

It was believed that Dr Anyetei put up a fierce struggle with her attacker to the extent of plunging her teeth into his arm in an effort to survive but without success.
DAILY GUIDE learnt that since the incident, neither David's mother, who was said to be a close lifelong friend of Dr Anyetei, nor any of her family members, had called the late woman's family to say sorry.
"It will even shock you that none of them came to her funeral," a family spokesman said.
According to him, Dr Anyetei sent David to live with her in the UK about two years ago in order to continue his studies.
This, he said, was a special favour she did her lifelong friend.
It was however alleged that on the day in question, Dr Anyetei and David were supposed to go to the latter's school to check on matters relating to the exam fraud.
Two hours after her murder, it was alleged that David rang and told Adama, who was inside the house, that his mother had been killed inside her car.
Dr Anyetei, whose murder is still under investigation, until her death, worked as a consultant paediatrician at the St. Thomas Hospital in London.
Meanwhile, the body of the late consultant paediatrician was last Saturday laid to rest at the La Public Cemetery in Accra.
The forecourt of the Ghana Trade Fair Company Administration Block, where the burial service was held, witnessed a lot of dignitaries from the political, medical and other professions who thronged the fair site to pay their last respects to the departed medical practitioner.
Notable among these were Jerry John Rawlings and Nana Konadu Agyeman Rawlings, former first couple, and Hon E.T. Mensah, MP for Ningo Prampram.
Dr Anyetei was born on July 22, 1953 in La, a suburb of Accra.
In a related development, the 19-year-old son of Victoria Bernice Okaikor Anyetei, who arrived in the country for his mother's funeral, leaves Accra today to continue his university education at Kent in the United Kingdom.
Adama Thompson is a first-year student of Kent University where he gained admission in September this year. He is a witness in the on-going trial of David, and therefore declined to comment on the case.
By James S. A. Kwashie