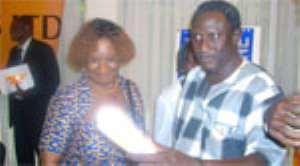 The Chief Executive Officer of the Ghana Chamber of Mines, Joyce Aryee says the move by Golden Star Resources to list on the Ghana Stock Exchange (GSE) signifies mining companies' readiness to support the development of the nation.
According to her, Golden Star Resources has shown its zeal to allow Ghanaians to share in the company's fortunes by going to the capital market to list, thus Newmont and Goldfields Ghana Limited should follow suit.
Speaking at the launch of the initial public offer (IPO) of Golden Star Resources last week, Ms. Aryee said Ghana ought to benefit from mining, thus listing on the stock market is a good indication of helping to advance the economy.
A total of $10 million (GH¢9.51 million) is expected to be raised from 3,170,000 ordinary shares at GH¢3.00 per share.
According to the Vice President in charge of Africa operations for Golden Star Resources, Daniel Owiredu, the funds to be raised would be used to develop the company's Hwini-Butre and Benso concessions.
He said development of the two mining concessions would enable them to produce over 500,000 ounces of gold annually from 2009.

While the listing on the GSE is intended to add up to the company's listing on the Toronto and the American Stock Exchanges, it will enable common shares of Golden Star to be tradable on all three exchanges.
Upon listing on the Accra Bourse, Golden Star Resources would add $700 million to the market capitalization of the exchange, and is expected to be one of the equities that would boost market activity on the GSE.
From an initial 11 listed companies, capitalized at less than $100 million on November 12, 1990, the GSE now boasts of 32 listed companies whose capitalization is about $12.8 billion. A preference share and some bonds are also listed.
The IPO which is currently underway and being sponsored by Strategic African Securities (SAS) is expected to end on the 21st of this month.
Golden Star holds a 90 per cent equity interest in Golden Star (Bogoso/Prestea) Limited and Golden Star (Wassa) Limited and is among a consortium of mining companies that constructed an 80-megawatt power plant in the country.
In addition, it has an 81 per cent interest in the currently inactive Prestea underground mine, as well as gold exploration interests elsewhere in the country, in other parts of West Africa and in the Guiana Shield of South America.
It has approximately 233 million shares outstanding.
By Charles Nixon Yeboah