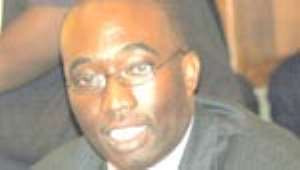 AN ANTI-Money Laundering Act to prohibit illegal transfer of monies which aid drug related activities, human trafficking and other criminal activities, is currently awaiting Presidential Accent after Parliament had passed the bill recently.
The intended law is among other functions to legitimize the private sector, ensure prudent government economic policies and reduce capital flight in the country.
Joe Ghartey, Attorney-General and Minister for Justice, opening a workshop for stakeholders, said the introduction of an anti-money laundering system will assist the monitoring and detection of unusual financial transactions coupled with knowing the identity of the customer behind the transaction offers.
This will offer the best method to combat money-laundering, he added.
Several stakeholder meetings among the ECOWAS sub region have already taken place.
"In the absence of an effective legal regime to eradicate this problem, it will affect the efficient performance of the organs of government, financial institutions, professional bodies and the nation, which in the long-term erode confidence in the banking sector and other established institutions.
The system is required to combat these various adverse effects which money-laundering has on the economy."
He maintained that in their quest to promote illegal trading, money launderers look for jurisdictions where their activity is not criminalized- where 'know your customer' rules do not exist and in cases where there are rigid bank secrecy laws and as such the lack of an effective monitoring system without reportage of suspicious transactions also provides a fertile climate for money laundering.
"The Act places responsibility on accountable institutions to report persons suspected to be engaged in money-laundering and also in situations where there are grounds to believe that a transaction is linked to the laundering of criminal proceeds."
The Minister stated that government was strongly committed to working with the Financial Action Task Force, the principal international body involved in the fight against money-laundering, to ensure that its special recommendations on Terrorist Financing are complied with.
"Due to the seriousness of the government, it has enacted an Anti-Terrorism Bill which is before Parliament for consideration," he emphasized.
By Patrick Baidoo