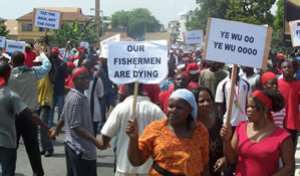 Thousands of people are demonstrating in Accra against economic hardships nationwide.
Organisers of the demonstration, The Committee for Joint Action (CJA), a pressure group made up of individuals and activists of opposition political parties, says the march is against recent increases in petroleum prices, electricity and water tariffs. The latest addition is the proposed air time tax on mobile phones.
The group has also accused the government of insensitivity towards the plight of the suffering masses.
The marchers are all clad in red to symbolize mourning. Incidentally, the demonstration has been christened 'Yewuoo', to wit, 'we are dying.'
The march started at the Kwame Nkrumah Circle in Accra early morning and expected to end up at the Arts Centre where a rally has been planned.