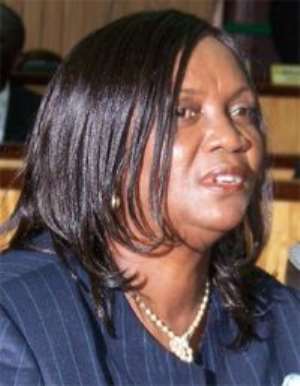 Chief Justice Georgina Theodora Wood has warned that her outfit will no more tolerate the negative acts that are practiced by some Judges and Staff of the Judicial Service that tends to corrupt the justice delivery system in the country.
"The recent disconcerting report by the Ghana Integrity Initiative that their studies have proved that the phenomenon of corruption is real in the Judicial Service demands that we all make a concerted effort to uproot this canker from our midst," she observed.
Mrs Wood gave the warning on the occasion of the commissioning of a new administrative and court building at Bolgatanga.
The Chief Justice further assured Ghanaians that the Judicial Service will keep faith with them to collectively continue its search for a truly democratic, just, stable and peaceful society which she noted will create an enabling environment for socio-economic growth and development.
She therefore entreated litigants to trust that they will receive justice from all the nation's courts and so they should do away with the fear that unless they 'do something" they are doomed.
According to her, the edifice which started as a single block in 1997 has been completed to accommodate the administrative, accounts and audit sections of the Judicial Service in the region.
Upper East Regional Minister, Alhassan Samari noted that without proper maintenance of the rule of law and order through the effective administration of justice, there will be no peaceful and congenial atmosphere to work in the country.
"We therefore owe a debt of gratitude to our past and present governments for putting in place a system of law, order and security to ensure an overall peaceful and orderly development."
Alhassan Samari assured that government will continue to strengthen the Judicial Service so that it can administer justice more effectively in the country.
Robert Tetar, Upper East regional president of the Ghana Bar Association appealed for a substantive High Court Judge to fill the vacancy created after the transfer of His Lordship Justice Mensah.
He also requested for substantive district court magistrates for the courts at Zebila, Bongo and Sandema.
Her Ladyship the Chief Justice later in the day commissioned similar projects at Zebila, Bongo and Sandema districts.
By .