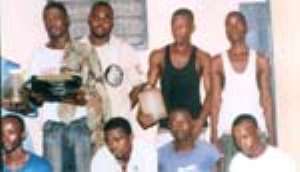 FOUR FOREIGN Nationals and their Ghanaian counterpart have been busted by the Kpeshie Divisional Police Command for using the letterhead of the Ghana Police Service to defraud unsuspecting clients on the internet.
The suspects, Appe Samson, Raymond Jarikri, Festus Inaya, all Nigerians, Jimoh Idigu - Liberian and Nyanudor Herman - Ghanaian, were caught in an internet café (name withheld) in the act of sending information on Ghana Police Service letterhead, claiming to be the Inspector General of Police (IGP).
In their possession was the Police Service letterhead with series of instructions to their unsuspecting victim, one Mr. Peterson, directing him to send an amount of $920 million through Western Union Money Transfer.
The letter, purported to be coming from the IGP of Ghana, contained grammatical errors which could easily tell a discerning businessman or woman that the writer was fake.
"Yes, like what am telling you for your information is that with the position of my office here in Ghana, I we let you know that if you want to receive any of your consignment, then I we be your representative here in Ghana, so you should call me for more discussion," part of the letter read.
The gang informed their 'prey' that as the IGP of Ghana, they had control over all the entry points into Ghana and that Mr. Peterson could send his consignment to Ghana through them.
"Am the controller in Accra Ghana, with this, you can come to Ghana yourself to see all your consignment and also see me face to face. I think that is better for you also?
"So what you we do now is that you should forward all information of people sending you email in Ghana to me, ok," the letter stated.
Deducing from the content of the letter, one could say that Mr. Peterson had already sent some consignment to the '419' men.
"And for dose (sic) of your consignment that is in my position under my custody now. The money to release the (4) four consignment is (8) eight million cedis which is equavaflent (sic) $920USD for all the consignment, I we send the information of the payment to you, chack (sic) below," it indicated.
It concluded thus: "And anytime you are sending money to anybody in Ghana, you should send the money to me and tell the person to meet with me in my office to collect the money, for that is the help I think I can do for you, because I know if she or he is real they we come to meet me to collect it from me, but if they are fake they we not come, they we run away if they know that am a police official.
"With this am telling you I want you to know how serious I am so that we know am working for you," it assured.
The letter instructed Mr. Peterson to pay the charges, using information provided, to "my driver name Mr. Okiemute Ubigho."
The Divisional Commander, Chief Superintendent Elizabeth Dassah urged prospective businessmen and women interested in doing business in Ghana to use the appropriate channels and meet the right people.
She advised that on receipt of any doubtful and whatever information from anyone on the internet, the recipient should cross-check from the police before taking any action.
C/Supt. Ms. Dassah cautioned and appealed to internet café operators to report all suspicious characters who use their facilities to the police for immediate action, pleading with the general public to also furnish the police with credible information so as to weed out such criminals whose activities are hampering the development of most organizations.