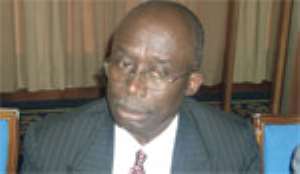 THE YEAR 2008 could be an exciting one for the Social Security and Insurance Trust (SSNIT) as it is set to improve upon its investment income and other business portfolios.
Considered as the largest investor in most of the listed equities on the Ghana Stock Exchange (GSE), SSNIT will be hoping to consolidate gains made in its investment for 2006.
SSNIT accrued ¢1.313 trillion as against ¢765.62 billion in 2005, a significant increment of 71.53 per cent.
According to its annual financial report, the expected new listings of both stocks and bonds on the exchange this year, which have been achieved, coupled with the downward trend in interest rates is expected to increase investor confidence in the stock market.

"We intend to take advantage of available opportunities on the local and regional markets particularly in the emerging sovereign bond instruments and special purpose regional infrastructure investment funds", the report added.
Indeed, it continued to become a major player on the Accra Bourse during the year under review where the Trust held shares in 23 out of the 31 companies listed.
Just recently, it purchased huge shares in the Ghana Oil Company Limited (GOIL) and indications are that SSNIT has become the largest shareholder in the company after government, which now holds 37 per cent shares.
The total market value of SSNIT-held listed equities stood at ¢2.857 trillion, constituting 2.54 per cent of the GSE market capitalization of ¢112.496 trillion.
However, the Trust holdings in Ghana Commercial Bank (GCB), SG-SSB Bank Limited and Produce Buying Company Limited pulled its listed equity portfolio performance below that of the GSE in 2006.
Importantly, the total income from investment accounted for 31.15 per cent of total revenue of ¢4.215 trillion that accrued to the Trust.
On the other hand, the Trust Fund also continued a steady growth through 2006 with a year-end fund size of ¢11.82 trillion, which represented 27.23 per cent from December 2005.
While it currently exists as the largest non-bank financial institution in the country, it also owns the majority shares in the Trust Bank Ghana Limited and Merchant Bank Ghana Limited, triggering a possible merger between the two institutions.
As a means of increasing its investments, it is anticipated that SSNIT would acquire shares in running initial public offers (IPOs) in State Insurance Company (SIC) and Golden Star Resources to boost its investment.
With the main categories of the investments being government stocks, bonds, equities, residential and commercial properties such as the Ghana Hostels Limited, loans and short term cash deposits, its investment portfolio is mostly locally invested and structured into short, medium and long term investments.
Foreign earnings which are quite small are invested in fixed deposits overseas as and when received.
By Charles Nixon Yeboah & Patrick Baidoo