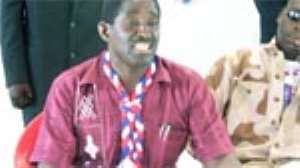 Mr. John Nkrabea Effah-Dartey, MP for Berekum and disqualified New Patriotic Party (NPP) presidential aspirant has over the week-end suffered what could be described as a double agony.
While his beloved party has thrown out an appeal he filed against his disqualification from the flagbearership race, it came to light that the Ghana Armed Forces (GAF) had long stripped him of the use of the rank 'Captain' in civil life because he did not leave the forces in colours.
In fact it was revealed that the Ghana Armed Forces had as far back as 1994 warned him to desist from using the title in civil life- a caution he threw to the wind.
His appeal was consequently dismissed by the ruling party as one without merit.
Delving into the archives to prove its case, the Vetting Committee of NPP produced a letter, dated 19th July 1994, and signed by Colonel M. Akowuah, then Director of Public Relations, warning him that by using the title even in civil life, he was flouting Article 15.20 (1-6) of AFR Vol.1.
"You are not permitted to use your rank, having not completed the required 10 years of officer service with the colours. You are therefore disqualified from using the rank of Captain in civil life," the letter stressed.
The letter, with reference number GHQ/6954/A(DPR) and written 11 years after he was compulsorily retired, said among other things: "It has been observed that since your release from the service in 1981, you have often referred to yourself as a retired army captain, and have used the abbreviated form of the rank 'Captain' and acronym 'rtd' in your name….. I am therefore directed to draw your attention to this issue and request that you desist from using your rank in civil life".
National Chairman of NPP, Peter Mac Manu said since the party was not satisfied with the explanations the aspirant tried to give, it had no option but to disqualify the Berekum MP from the race.
Asked what the party would do if the aspirant decides to go to court, Mac-Manu said the party was interested in telling the world the truth and nothing more.
"He can go to court, but that does not preclude us from speaking the truth. It is his right to go to court, and we also believe we must speak the truth," he stressed.
On whether his ¢250 million registration fee would be refunded to him since he was not allowed to contest, the chairman said it was a different matter that would be looked into.
It would be recalled that Effah-Dartey, then a lieutenant in the Ghana Army (GH/1828), was tried at the Nsawam Medium Security Prison on Tuesday 14th April, 1981 on four counts by a duly constituted Court Martial.
Details of his charges were endeavouring to persuade Sgt Kwame Adarkwa to join him to overthrow the lawful authority of the Armed Forces; making diverse preparations with intent to overthrow lawful authority; acting in breach of his allegiance to the Commander-in-Chief by preparing to overthrow the Republic through unlawful means; and improper possession of weapon and ammunition.
He pleaded guilty to the second, third and fourth charges and was sentenced to 'Dismissal with Disgrace' from the Ghana Armed Forces and 23 months imprisonment.
The sentence announcement, dated 8th May, 1981was signed by Justice S.N. Amarteifio (Judge Advocate) and Group Captain J.A. Kotei, GH/342 (President of the Court Martial).
Other members of the court included Squadron Leader Owoo (GH/806), Major A. Sam (GH/1007), Lt Commodore Y. Obinim (GH/1286), Captain Asiedu (GH/1390), Lt Commodore Dededzi (GH/932) and Captain N.N. Mensah(GH/1279).
On the prosecution panel were Lt. Col A.B. Donkor, Captain Acquaye and Captain Doudu.
Incidentally, following the PNDC takeover on 31st December, 1981, he was 'rescued' from the Nsawam Prison and the sentence was mitigated as a result of which he was compulsorily but honourably released from the forces on August 14, 1983.
In all, his total period of reckonable service was 5 years, 9 months and 12 days, out of which 4 years, 3 months, 19 days was for officer service.
Even though his service as officer was far short of 10 years, he had continued to use the rank of 'Captain' in civil and political life.
When on 28th and 30th of November, 2007, Nkrabea Effah-Dartey appeared before the NPP Vetting Committee, he failed to fill a vital part of the nomination forms, which enquired whether the aspirant was once a convict.
He later admitted to the committee that he was convicted on a misdemeanor charge but was set free on the mutiny-related charges.
Unfortunately, he could not provide proof of his claims, prompting the committee to apply to the GAF for his records- a development that led to the opening of a can of worms.
The party insisted that by virtue of the imprisonment, which had a national security implication, Articles 62 (a) and 94 (5) of the 1992 Fourth Republican Constitution had thus disqualified Effah-Dartey from running for president of Ghana, even though he could be an MP or be appointed as minister.
Having exhausted all the party avenues, the disqualified aspirant's next window of opportunity in the on-going battle is to seek redress in court.
By Bennett Akuaku