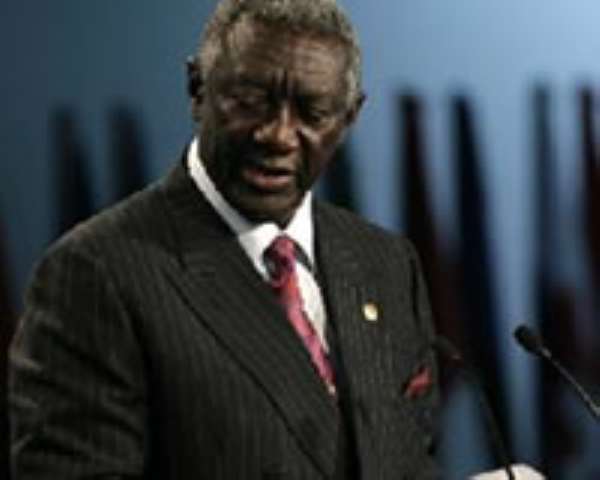 EU and African leaders have signed a declaration promoting free trade and democracy at a summit in Lisbon beset by rows over trade deals and Zimbabwe. As the Portuguese hosts hailed a "new chapter" in relations, Senegal's president railed against new EU-African trade deals proposed by the EU.
And Zimbabwe's President Robert Mugabe reportedly accused Europe of arrogance in criticising his human rights record.
The hosts have lauded the summit as heralding a new relationship of equals.
The 67 leaders gathered at the summit agreed to work together to forge a new partnership on issues including security, development, trade and good governance.
The BBC's Mark Doyle, in Lisbon, says the joint declaration is hugely ambitious in scope, and that clear differences remain on several issues.
Fragile economies
Angry words flew over trade deals - known as Economic Partnership Agreements - proposed to replace existing agreements due to expire at the end of the year.
"We are not talking any more about EPAs, we've rejected them," said President Abdoulaye Wade of Senegal.
Although some east African nations have already agreed to the deals, many other countries argue that they will damage their fragile economies.
The deals - to replace historical agreements which gave former European colonies preferential trade terms - demand that African countries open their markets to European goods in order to keep tariff-free EU access for their own exports.
The summit was seen as an EU attempt regain lost ground in Africa and combat growing Chinese influence in the continent.
But President Wade said that "Europe is close to losing the battle of competition in Africa".
Our correspondent says that while China has massively increased its investments in Africa, it does not tend to comment on issues such as democracy and human rights.
'Arrogance'
The point was evidenced by tensions over the presence of Mr Mugabe, widely criticised for human rights abuses and economic mismanagement in Zimbabwe.
Although he is banned from the EU, African leaders demanded he be invited to attend. UK Prime Minister Gordon Brown boycotted the meeting in protest.
On Sunday Mr Mugabe was reported to have lambasted four EU countries for "arrogance" in their criticisms, according to a copy of a speech at a closed meeting obtained by French news agency AFP.
His comments came in response to German Chancellor Angela Merkel's earlier assertion that his policies had "damaged Africa".
"It is important that people keep in mind that Africans fought for human rights from oppressive rule," said Mr Mugabe, who is regarded by many African leaders as the heroic liberator of Zimbabwe.
The meeting was the first EU-African summit for seven years. Previous attempts had collapsed over the question of Mr Mugabe's attendance.
Portuguese PM Jose Socrates, who earlier lauded the gathering as a "summit of equals", said it was an achievement in itself that the meeting had taken place.