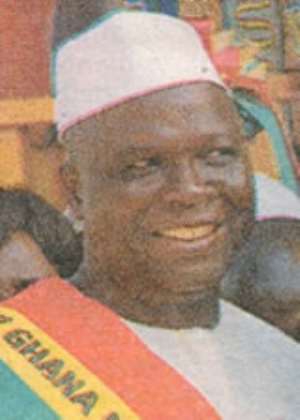 A 54-year-old man who has been farming at Manhyia in the Ashanti region for many years now made a triumphant return to his native Wa Friday when he was crowned the National Best Farmer for 2007.
Alhaji Abdul Salaam Akati's return to his home town was, indeed, a proud one as he was picked way ahead of the pack of 62 awardees and crowned the overall best at the 23rd National Farmers Day.
To the cheers of the home crowd and many who had trooped to the venue from far and near, Alhaji Akati received a symbolic key to a furnished three-bedroom house to be sponsored by the Agricultural Development Bank (ADB).
Alhaji Akati, who is the Managing Director of Akati Farms, has 5,830 acres of farmland, out of which he has put 216 acres under cultivation.
He employs 295 full-time workers and 50 casuals. The Second National Best Farmer award went to 46-year-old Dominic Kwame Ampofo of the Western Region. He took home a double-cabin pick-up donated by Stanbic Bank as his prize.
Daniel Ayensu Kumi of the Greater Accra Region had a tractor for placing third.
Kow Osafo Otu emerged the National Best Fisher¬man and was presented with a double-cabin pick-up.
Other award winners included Ambrose Owusu of the Central Region, who was adjudged the Best in Fish Farming, Stephen Owusu of the Brong Ahafo Region was also adjudged the Best in Poultry Farming, while the Best Physically-Challenged Farmer award went to Thomas Zubille of the Upper West Region.
The Assorku-Essaman M/A JHS and Sekondi College in the Western Region were also presented with special awards.
Also awarded were 10 agricultural extension agents.
In all, 62 farmers were rewarded at the colourful ceremony held at the picturesque Jubilee Park.
In attendance to provide music was the Police Band from the Pwalugu Police Training School in the Upper East Region. They treated the crowd to some melodious tunes, with some singing along and occasionally tap¬ping their feet.