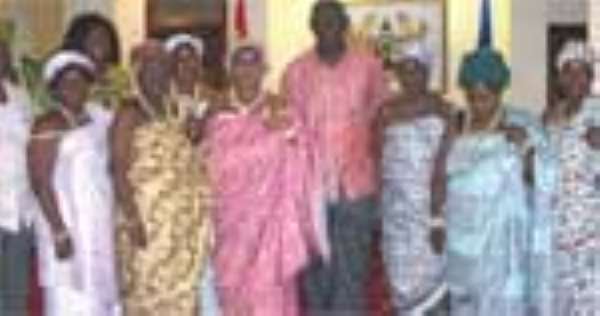 SINCE WEDNESDAY, November 14 when President John Agyekum Kufuor escaped unhurt when his vehicle was involved in an accident, many well-wishers from far and near have been thronging the Castle and his home to wish him well.
Most of the visitors were either emissaries conveying solidarity messages on behalf of their various governments, or friends who had come to see him in person.
The latest visitors included a delegation of seven Queenmothers of the Ga State who called at the Castle to extend best wishes from the people of the Greater Accra Region to the President.
The Queenmothers, led by Naa Dedei Omadru III, Ga Manye, said they heard about the accident and decided to come and find how the President was faring.
Naa Dedei Omadru III explained to the President that the chiefs could not come with them because the Ga Mantse, King Tackie Tawiah III, was out of the country.
"But we as mothers of the land decided to come and see you and find out how you are doing," she said.
She however asked the President to expect the chiefs soon as the Ga Mantse had sent a message asking them to come and greet him as quickly as possible.
Again, a special envoy of the President of Comoro Island, Ahmed Abdallah Mohamed Sambi, was also at the Castle on Monday, December 3 to deliver a benevolence message on behalf of the Comoros.
Ahmed Ben Said Jaffer, who is also the Minister of Foreign Affairs, Union of Comoros, speaking through an interpreter, related how the people of Comoro heard the news about the accident and how they were deeply touched.
He said the people of Comoro "ask God to continue to protect you (President Kufuor) and the people of your government".
President Kufuor, after appreciating the visit, said he was cheered to know that there was so much goodwill pouring in from every quarter of the world.
In a separate development, the Number One Citizen granted audience to Professor Dieter Soll, a sterling lecturer of Molecular Biophysics at the Yale University in the United States of America.
Prof. Soll was billed to deliver a University of Ghana public.
The lecture, targeting students at the second cycle level, is being organized in collaboration with the Noguchi Memorial Institute for Medical Research and the College of Health Science.
It is to generate interest in medical research in the country.
By Emelia Ennin