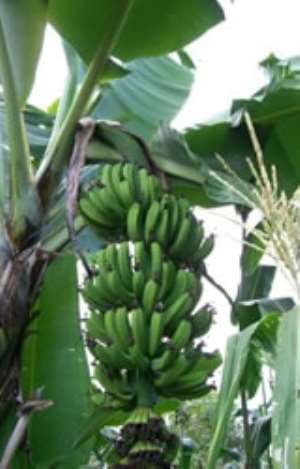 The Chairman of the Parliamentary Select Committee on Food, Agriculture and Cocoa Affairs, Mr P.C. Appiah Ofori, on Thursday highlighted the glaring contradiction between Ghana's annual huge food import bill of $500 million and seasonal glut of food products at farm gates across the country.
"It is untenable to import food worth $500 million every year when we experience seasonal glut of crops like yam, cassava, maize, plantain, pepper, tomatoes, mango and rice," he said.
Mr Appiah Ofori, who was making a statement on the floor of the House on the occasion of the National Farmers Day celebration which falls today, said it was sad that an agricultural country such as Ghana continued to import almost every agricultural input from agro-chemicals and agro-machinery to even packaging materials.
Commenting on the theme for this year's celebration, "Ghana at 50: Progress and Challenges of Sustainable Agriculture", Mr Appiah Ofori said the theme could not be more appropriate considering the progress made within 50 years of the country's independence and challenges yet to be surmounted in the industry.
"Indeed, agriculture faces a lot of challenges which could be overcome if farmers were supported by appropriate technologies and economies of scale. The government's policy of mechanizing agriculture has, to some extent, improved agriculture but there is more to be done," he said.
The Parliamentary Select Committee Chairman explained that the country's farmers had not been able to produce to their maximum because of post harvest losses estimated at 30 to 40 percent of their total output.
He further explained that the efforts by governments in the past to build silos, engage in agro-business such as tomato and meat processing, as well as create markets, were yet to yield the desired results.
"Only 13 percent of agricultural produce in the country are processed. Processing of vegetables such as tomatoes is almost non-existent although vegetables experience the greatest post harvest losses," Mr Appiah Ofori lamented.