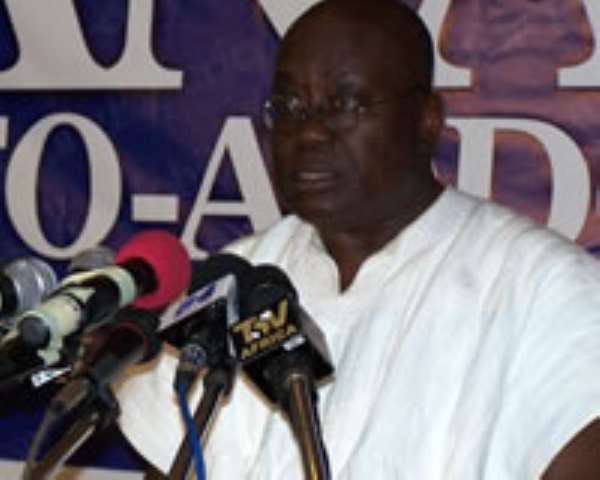 Mr. Michael Ampong, Campaign Coordinator for Mr. Allan Kyerematen says Ghana will be plunged into chaos should the New Patriotic Party (NPP) delegates consider Nana Addo Danquah Akufo-Addo for the flagbearership slot of the party and eventually elected president.
According to him, the former Foreign Affairs Minister is arrogant, temperamental and hot-headed for the number one job of the land, the Presidency, and therefore, it will be suicidal for the NPP to parade him as its presidential candidate.
He believes Akufo-Addo has a bloody feud to settle with ex-President Rawlings, who is undoubtedly an influential personality in the body politics of Ghana, and for that matter if he was made President would vent his anger on the NDC founder and that would ultimately push the nation into a chaotic situation like the Ivory Coast.
"We are at risk, if we should elect Nana Akufo-Addo and present him as our candidate. The perception out there is that he is arrogant, temperamental and hot-headed and this was confirmed when he vented his anger on a colleague Member of Parliament (MP) in Parliament," the Alan 'Boy' submitted on Wednesday night, during a programme on Hello FM in Kumasi.
He was reacting to a front-page story of the Statesman newspaper in which it was reported that the NDC and its founder wished that the NPP would not elect Nana Addo because the latter would be a threat to their victory in the 2008 elections.
Mr. Ampong said the publication was mischievous, unwarranted and indicative that the Akim Abuakwa legislator had already lost the race.

The Campaign Coordinator, in a 10-munite presentation, subjected Akufo-Addo to a multiple of vilifications and questioned whether the NPP just needed someone to lead the party in 2008, or wanted a person whose vision is in tune with the needs of the crying masses of this country.
He described his boss, Mr. Allan Kwadwo Kyerematen, as an affable and a humble man, with a loving personality which would win the votes of floating voters for the party.
To him, Nana Akufo-Addo has no message for the delegates, hence, coming out with trash propaganda to make him look important and fearsome to the opposition, so as to win the sympathy of the party's delegates.
He concluded that the former Foreign Affairs Minister was a failure, having lost the "Constitutionality of the Fast-Track Court" case to the NDC legal luminary, Mr. Tsatsu Tsikata.
Meanwhile, a member of the panel who called himself "High Priest", unable to stand the vilification against Nana, told listeners that every individual has a weakness and that if Akufo-Addo was arrogant, Alan was also a failure because he could not successfully manage the PSIs, which he said an illiterate old lady described as his inability to cultivate a simple small cassava farm.