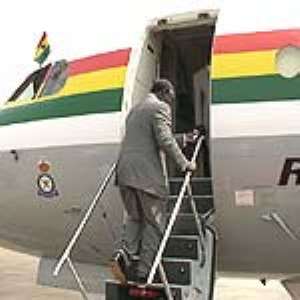 Chairman of the African Union, President J. A. Kufuor leaves Accra on the night of Thursday December 6, 2007 for Lisbon, Portugal.
He will be attending the much-publicised EU-AU summit. The summit is scheduled for Saturday 8 and Sunday 9, December 2007.
President Kufuor will lead Africa to discuss contemporary global issues that affect the two continents and establish the basis for a long-term strategic partnership between Europe and Africa.
The Lisbon meeting is expected to adopt a joint strategy and an Action Plan to deal with the many outstanding committees on trade, aid and development assistance that were made in the past.
The meeting will also discuss peace and security, democracy and human rights, migrations as well as energy and climate change.
There are about 80 countries that make up the EU-AU Partnership as well as heads of regional institutions from both continents that will be attending the meeting.