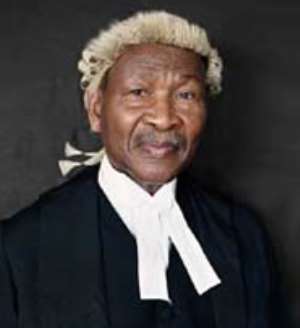 Mr Samuel Okudzeto, former President of Ghana Bar Association (GBA) has postulated that Ghanaians are intolerant to opposing views, which is dangerous to democratic development of the nation.
"Our society is becoming more aggressive and resort to violent words, actions and gestures to defend their view points…resisting any alternative suggestions," Mr Okudzeto stated at the third annual Human Rights lectures in Ghana.
The lecture on the general theme: "Fifty Years of the Rule of Law in Ghana: Assessing Human Rights Protection," was jointly organised by the Commonwealth Human Rights Initiative Africa Regional Office in Accra (CHRI), Ghana Bar Association (GBA); Commission for Human Rights and Administrative Justice (CHRAJ).
Mr Okudzeto called for systematic efforts to sensitize Ghanaians on rights and limitations and civic responsive behaviour.
Speaking on: "Instant Justice, The Criminal Justice System and Human Rights in Ghana," Professor Ken Attafuah Executive Director of Justice Human Rights Institute, called on the national security to adopt effective measures to find a lasting solution to the menace of mob justice.
He said mob actions (instant justice) have never solved any problem since the creation of the world. We do not use illegalities to solve illegalities.
"The path of true justice may be frustrating and time consuming but its results are more convenient than any other form of settling disputes," he said.
Prof. Attafuah said, "mob justice presents a serious challenge for our democratic society," he added and expressed worry about the growing act of lawlessness and gross injustices in Ghana.
"It is good to reduce crime but people must not take the law into their own hands," he said, while commending the various human rights groups for their stand on the menace.
He however said he appreciated why a cross-section of the public became enraged at criminals and frustrations about the slow manner in which the law worked.
However, it was still necessary for people to respect the law as the only way to promote peace and stability, reminding Ghanaians; "we together opted to go by the rule of law".
Speaking on Human Rights and Social Justice in Ghana at 50: Have we come of Age?, Mr Richard Quayson a Deputy CHRAJ Commissioner noted the achievement of the ideals of democracy in Ghana depends on an environment that is supportive of fundamental human rights of all persons.
He therefore suggested that the promotion of good governance and human rights culture should not be left only in the executive, legislature and judiciary, "Young people especially, have distinct capabilities and can contribute to human rights advancement."
Mr Quayson said democracy and human rights education would encourage individuals to respect the rights of others and not discriminate against them on the grounds of sex, religion, ethnic origin, amongst others.
The CHRAJ Commissioner called for cordial Police-civilian relationships, which, he said, were vital to the promotion of security and stability in any society, without which a nation's democracy is threatened.
"We are all dismayed at the excessive use of force by the police on several occasions over the years. It is important for us to recognise the role that the police play in maintaining law and order," he stated.