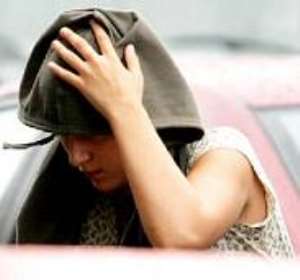 A juvenile court which was to hand down sentences on the two British teen girls who were arrested last July for possessing illegal substances and attempting to traffic cocaine to Britain on Wednesday adjourned the matter to January 9, 2008.
This was because the court had not received a social service report on the girls.
"When the case was called the social officer who was supposed to deliver the social service report to the court rather produced a request from the authorities in the United Kingdom seeking an extension of time," Mr Gary Nicholls of the British High Commission in Accra told journalists.
He said this was to enable them to work on the report.
The court on November 21, found the girls, both 16 years old, guilty and deferred sentence to Wednesday.
The judge at the last sitting requested for the social services report to factor it into the final sentence.
They could be jailed for a maximum of three years in a juvenile correctional facility.
Soon after the verdict, the families of the girls expressed disappointment and said they would appeal against it.
"We will be appealing this verdict," they said in a statement read on their behalf by Ms Sabine Zanker, Head of Legal Team of UK-based Fair Trials International.
The families noted that both girls were vulnerable and that their "naivety was ruthlessly exploited" by the men who lured them to Ghana and left them to their terrible fate.
"The defence presented evidence to show how the girls had been lured to Ghana on false pretences, and to show they had never agreed to participate in illegal drug trafficking, and indeed had no knowledge of the real purpose of their trip," the letter said.
The two girls were arrested on July 2, 2007 when they were going through immigration procedure at the Kotoka International Airport to board Heathrow-bound British Airways flight.
A search through their laptop bags revealed a total of six kilos of white powder, later confirmed to be cocaine with a street value of 300,000 pounds.
They pleaded not guilty and named two persons, Kwame and Emmanuel, as the people who put the substances in their bags without their knowledge.